The Ultimate Guide to Buying Boots
Boots are a staple piece of footwear that should be included in everybody's wardrobe, designed for the colder months but not limited to seasonal wear.
Developed with revolutionary technologies to ensure maximum comfort and durability, our wide selection of women's boots and men's boots will leave you spoilt for choice. But with so many different styles to choose between, from ankle boots to desert boots, how do you choose your perfect pair?
Welcome to your ultimate boot buying guide, where we showcase every style of boot and give tips on how to wear them. Ready to get inspired? Here are the most popular types of boots:
Ankle boots
Chelsea boots
Desert boots
Knee-high boots
Mid-calf boots
Wallabee boots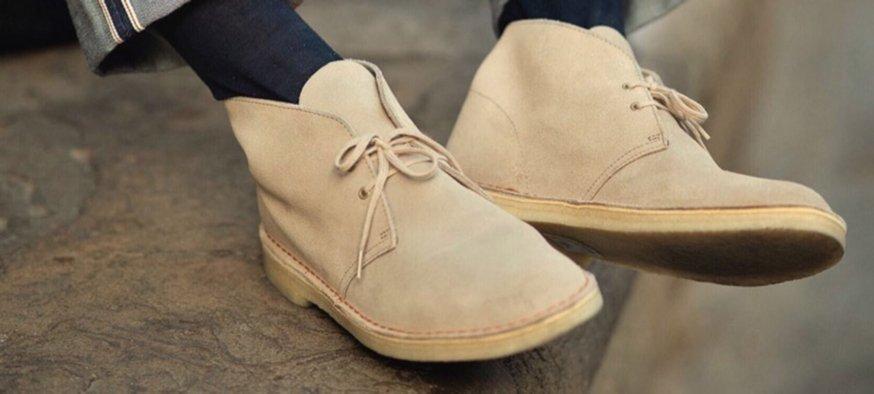 Ankle boots -
What are ankle boots?
Versatile and fabulously gender-neutral, ankle boots are a true winter wardrobe staple. As the name suggests, they finish at the ankle, providing you with extra foot support and warmth. You can find them in all different colors and materials, from classic black leather to suede in neutral hues.
How to wear ankle boots
Wear ankle boots with heels for a day in the office, or stick to a flat sole if you spend lots of time on your feet.
Ankle boots go well with a range of outfits. Wear them with your favorite blue jeans and a simple tee for a casual look, or dress them up with a skater skirt and tucked-in shirt.
Ready to rock your own pair? Browse our women's ankle boots and men's ankle boots.
Chelsea Boots -
What are Chelsea boots?
Chelsea boots are a popular ankle boot style identified by their elastic side panels. They're easy to slip on and off, come in various materials and designs and are available in heeled and flat options.
How to wear Chelsea boots
As an ankle boot, Chelsea boots are notoriously easy to style. Wear them with a dress or denim shorts in the summertime, or layer up with a jumper and jeans over the colder months. Choose Chelsea boots in black leather for a classic pair that will go with everything.
Explore our collection of women's Chelsea boots and men's Chelsea boots to get inspired.
desert boots -
What are desert boots?
Desert boots can be characterized by these distinctive features:
Suede uppers

Soft crepe soles

Usually brown, tan or beige in color

Lace-up fastening
Desert boots were designed in 1949 by British Army member Nathan Clark. Inspired by the rugged suede boots the off-duty officers wore, he created his own – with a few added qualities. The desert boot is now a popular wardrobe staple for both men and women.
How to wear desert boots
Comfortable and practical, desert boots are a fantastic on-the-go shoe option. You can just as easily wear them for hiking and dog walks as you can for the office. These shoes look best with jeans or chinos and can also make a stylish addition to a suit.
Shop our range of men's desert boots and women's desert boots.
Knee-high boots -
What are knee-high boots?
A winter staple, knee-high boots are one of the most fashionable ways to keep your legs warm and toasty in the colder months. Popular styles include black leather and suede in heeled and flat options.
How to wear knee-high boots
Wondering what to style with knee-high boots? You've come to the right place. Layer your knee-high boots over leggings or skinny jeans for guaranteed warmth. Or, to really turn heads, wear your knee-high boots with a dress or skirt paired with a chunky sweater.
Step out feeling cozy with our collection of women's knee-high boots.
Mid-calf boots -
What are mid-calf boots?
Longer than an ankle boot but not knee-high, mid-calf boots are perfect for adding extra warmth to your outfit. You can find them in various materials and styles in suede, nubuck or leather. Mid-calf boots often have grippy soles for extra grip in the snow and ice as a winter staple.
How to wear mid-calf boots
Style your mid-calf boots tucked into your favorite pair of jeans. Flared or wide-leg jeans and trousers sit nicely over mid-calf boots, while long skirts and dresses are fantastic options. Wear suede mid-calf boots with a skater dress or skirt in warmer months for a fun boho look.
Browse our collection of women's mid-calf boots, available in various colors and designs.
Wallabee boots -
What are Wallabee boots?
Developed by Clarks in Ireland back in the 1960s, Wallabee boots have become somewhat of an iconic classic. Most commonly made with suede in a structural silhouette, Wallabees are perfect for both relaxed styling and dressier occasions.
How to wear Wallabee boots
Wear your Wallabee boots with slim jeans and a t-shirt for a look that works all year, adding a jacket in the colder months. Switch your jeans for a pair of chino shorts when the weather warms up. Since black absorbs heat, pick out Wallabees in a lighter shade to keep your feet cool.
Feeling inspired? Shop our women's Wallabee boots or men's Wallabee boots in various colors and styles.


Sturdy and stylish, Clarks' boots have earned a reputation for being some of the best. Shop our women's boots and men's boots to find many different styles. Planning for the summer season? Take a look at our summer footwear guide.