How to Clean and Protect Leather and Suede Boots
The season for boots is upon us, and there's no better time to brush up on your shoe cleaning skills. Leather and suede boots are great for keeping your legs warm while adding a stylish edge to any look – so the last thing you want is for them to get ruined!
The key to a long-lasting pair of boots is protection. Do your bit to take care of them and they'll last you years. Besides, you won't have to worry about cleaning them as regularly.
Ready to see a transformation? Here's all you need to know about cleaning and protecting your leather and suede boots.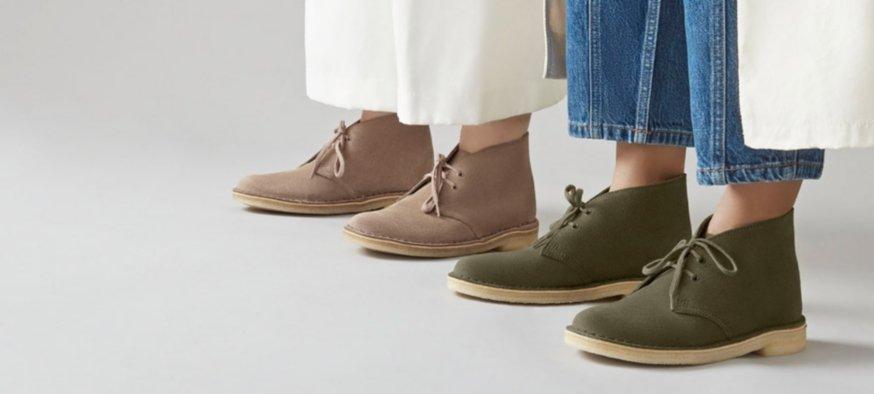 How to:
clean and shine leather boots
With its natural shine and ability to withstand rain, leather is an easier material to manage than suede. But, with that being said, it's still necessary to keep your leather boots protected from all different weather conditions and terrains. Here are our top tips for cleaning leather boots:
How to remove stains from leather boots
Are you struggling to remove pesky stains? Put together a simple cleaning solution using household ingredients for easy stain removal.
Fill up a cup with two parts water and one part vinegar, then mix them together

Take a clean cloth and dampen it with the mixture, then gently wipe the stain. You can use a shoe brush to scrub a little harder if needed

Once the stain has vanished, wipe over the entire area with a cloth dampened with water, then leave your shoes to dry. We wouldn't recommend leaving them too close to a radiator, as these can dry out leather and cause it to become brittle!



How to clean white leather boots
You can clean white leather boots by following the same steps as above. However, if you're using polish, make sure you buy white boot polish and not black!
How to protect leather boots
You may have just bought a pair of shiny new leather boots, or perhaps you've just cleaned them and want to keep them fresh for as long as possible. Luckily, it's easy to keep your leather boots protected with these tips:
Try not to walk on grass or gravel – while it may be easier said than done, try to limit wearing your boots on grass and gravel as much as possible. Grass is – let's face it – muddy, and gravel can easily cause scuffs and scrapes. Concrete, artificial grass or indoor flooring is your best friend

Avoid taking your boots out in extreme weather – it goes without saying that rain and snow is going to have an impact on your shoes. And while leather is waterproof to an extent, the less water damage, the better. If you are caught out in the rain, stick to the sidewalks!

Use a protection spray – spritz our Rain and Stain over the entire exterior of your boots for lasting protection against the elements. If you wear your boots often, spray them around once a week



How to clean suede boots
Suede is a beautiful material that adds style and sophistication to any look. However, while this soft, velvety finish is a popular choice for shoes, suede isn't as easy to clean as leather. Follow our cleaning tips below to achieve the best results.
Begin by applying a suede foaming cleanser all over your boots

Use a clean cloth to scrub gently with the grain, going in the direction that the suede naturally sits

Once cleansed, wipe your boots with a clean cloth and leave them to dry for around half an hour

Spray on a light coverage of Rain and Stain to keep them looking their best
How to remove scuffs from suede
Suede is a porous material, meaning it's more susceptible to scuffs and stains than leather. However, it's still possible to remove these, so long as you're gentle!
The cleaning process is exactly the same as it is for leather stain removal: use a mixture of water and vinegar and gently wipe the shoe. Remember to wipe in the direction of the grain, then leave your boots to dry naturally. They should be looking as good as new!
How to protect suede boots
Protecting your shoes is so much easier than cleaning them. Suede boots are fabulous for fall – but unless you're wearing boots from our waterproof collection, make sure you keep them away from wet weather. Just like with leather boots, try not to wear them in grass, mud or gravel, particularly if they have a high heel!
A protection spray is always a good idea, so give your boots a spritz with our Rain and Stain before leaving the house.
How to store boots
The correct storage of boots will keep them lasting for longer. Whenever you're not wearing your boots, keep them safe and snug in a shoe tree. These help your boots maintain their shape and prevent the material from wrinkling. Plus, they'll soak up moisture in the shoe and stop your shoes from smelling bad! We have men's and women's shoe trees perfect for shoes of all sizes.
If your boots are quite long, hang them in your closet using boot or pant hangers. This will help them to retain their shape and prevent them from getting creased.
Cleaning and protecting your shoes is a simple process once you have the right tools for the job! Take a look at our full collection of shoe care products, or shop for the new season with our women's boots and men's boots.