In My Shoes

With

Our Maison

Always on the lookout for new, emerging brands when dressing her clients, stylist Felicia Brown kept noticing something: a real lack of visibility when it came to fashion designers she loved of African-Caribbean descent.

And with a desire to change this, Our Maison was born - a global platform that aims to amplify these brands in the premium and luxury fashion space.

To kick-start our upcoming partnership with Our Maison, we chatted with founder Felicia and Operations Director Matthew Sojole about the journey to create this accessible marketplace, their passion for driving progress in the industry, and some of their top tips for making a style - and social - impact.
Tell us about yourselves and how you met?
Felicia Brown (Founder/Creative Director):
My name is Felicia Brown. I'm a fashion stylist & creative director. Matt and I met through a mutual friend Steven who I met at a Giggs concert he was filming for 4/5 years ago. We've always kept in touch and when I told him about our, he introduced me to Matt as we both have mutual interests in supporting our culture within the fashion industry.
Matthew Sojole (Operations Director):
My journey into the creative industry has been a strange one to say the least. I am actually a chartered accountant by profession. Around the age of 25, I started filming all my crazy holidays as me and my friends are a very big group of about 30. This snowballed into running a production company with two of my best mates from university within the same friendship group. As my creative interests evolved, I took a job as the Finance Director for a Talent Marketing agency and now I currently work running finance part time at a production company. I've always wanted my 9-5 to complement my interests outside of work and I've learned so much. Pursuing these extra-curricular interests is what led me to Felicia.
What prompted starting Our Maison, what's your motivation?
Felicia Brown:
As a stylist I would always be on the lookout for new brands to style my clients in, always try to stay away from predictable pieces. For that reason, I would also aim to work with emerging brands.
I founded our because of my love for emerging designers of Afro-Caribbean descent. People would always come to me when looking for new brands and I realised how low the visibility for this demographic is.
My motivation is to create a more accessible space in fashion for these designers; where people can genuinely see how dope their brands are and for everyone to have access to them. That way, they are given the same opportunities as their white counterparts.
Matthew Sojole:
The move into fashion came about when I watched a Killer Mike documentary on Netflix called "Trigger Warning". The documentary shed light on how fast money leaves the Black community vs other communities which inspired me to, where possible, buy Black. Although finding a Black competitor to Tesco isn't exactly easy, there are loads of Black designers. So I tried to go a whole summer wearing t-shirts from only Black designers. In that one summer I got the most compliments on my style ever and frequent questions on where I had purchased a t-shirt from. That's what has made joining Felicia at our as the Operations Director such a great fit. I think it shouldn't just be word of mouth that gets these designers out there. It would be great to have a marketplace that really brings these designers to market and larger audiences. In some ways our is not the first of its kind with similar businesses existing in the US, and others just haven't scaled up enough to really make an impact. However, I think with our network, in-house skills and passion, we're just the right people to do it.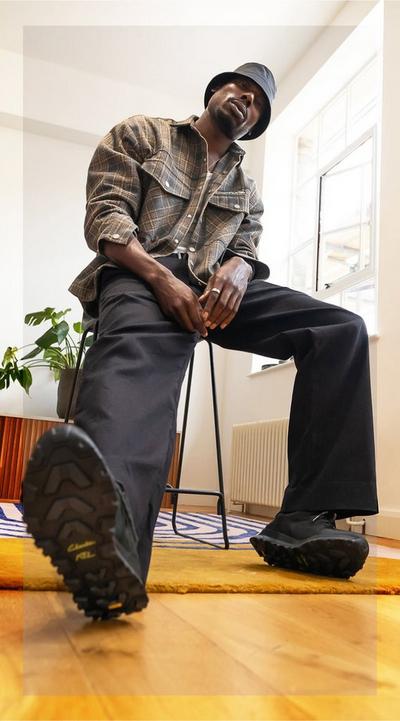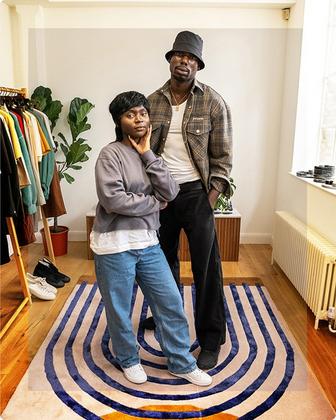 What does style mean to you?
Felicia Brown:
To me, style is a form of expression through clothes, hair and even make up. It's an extension of yourself.
Matthew Sojole:
For me, style is a way to speak to people who I may never get a chance to exchange words with. It's a statement about me, who I am, a first impression. When people wear football jerseys it's a statement of what team they support, who their favourite player is and in a lot of cases where they are from. I think this is the same with everything people wear, so more often than not I'd rather wear a hoodie designed by someone in my local area than a European designer I have no idea about.
Do you have an 'investment piece'?
Felicia Brown:
I love my Off-White Scarf. It got me through some very cold London nights and acted as a great blanket for my travels.
Matthew Sojole:
My Cold Laundry bomber jacket! You can never go wrong with a bomber for the autumn/winter and the weather in London isn't getting much better.
A piece of fashion advice…
Felicia Brown:
Always experiment with your style and don't be scared to try something new.
Matthew Sojole:
Always be mindful of what you wear and whether it represents you. I love luxury brands too, don't get me wrong, but sometimes I want to say more than how much I may or may not have in the bank with what I wear. I think everybody should.
"My motivation is to create a more accessible space in fashion for these designers; where people can genuinely see how dope their brands are and for everyone to have access to them. That way, they are given the same opportunities as their white counterparts." - Felicia Brown