What type of shoes should I wear for comfort?
With so many stylish shoe styles available, it can be easy to forget the sole purpose of wearing shoes: practicality. A good pair of shoes is designed to help support and protect your feet, letting you go about your days in comfort.
If your feet are sensitive, you may want to pay particular attention to what type of shoes you're wearing. Can't decide what style to choose? Our comfortable shoe guide will help you determine which shoes are best for sensitive feet.
Why do my feet hurt?
Your feet might hurt if you:
Wear shoes that don't fit properly

Have blisters and sores

Have an ingrown toenail

Are standing up or walking for extended periods

Have an injury

Have a strain from exercising
How to treat sore feet
Some of these problems are easier to solve than others. If your shoes don't fit properly, it may be as simple as getting your feet measured and buying a pair that works based on your measurements.
Blisters and sores can be treated with plenty of rest and specialized band-aids. If you spend lots of time on your feet and rest isn't an option (if you're working or caring for a loved one), make sure your shoes are comfortable and fit correctly.
It's a good idea to rotate between two pairs of shoes. If you spend time in wet conditions, alternate between shoes so wet ones can dry while you're wearing the others.
See medical advice for any cuts, infections or injuries that aren't going away by themselves. Your healthcare professional may advise you to rest your feet or buy shoes to keep them as comfortable as possible.
Comfortable shoes for sensitive feet
If your feet are sensitive, getting comfortable shoes may help solve aches and pains. We stock many shoe styles made with the best quality materials, designed for comfort and practicality.
We've studied the human foot for decades. We know the recipe to create the most comfortable, high-quality shoes that look great. That's why all our ranges are available in whole sizes, half sizes and widths to suit everyone. Plenty come with innovative underfoot cushioning, resulting in a perfect fit.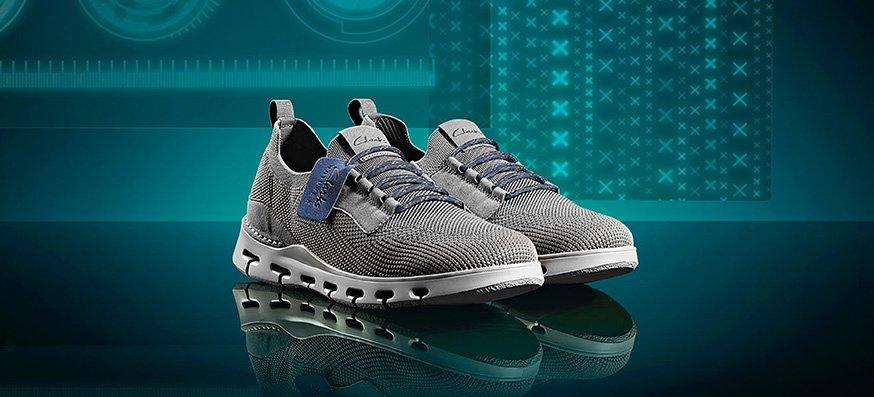 Men's shoes for sensitive feet
Searching for men's comfortable shoes? Here are some of our favorites:
Men's comfortable sneakers
As some of the best shoes for foot problems, everyone should own at least one pair of sneakers. For maximum comfort, choose sneakers with a molded footbed, breathable uppers and soles that flex as you move, such as our Nature X Lo. Available in black or gray knit, they're the perfect everyday shoe.
Men's comfortable walking shoes
If you're often on your feet or enjoy long hikes, you'll need a comfortable pair of men's walking shoes to accompany you on your journey. Designed for the great outdoors, our ATL Trek Wally are the best shoes for walking. Targeted, removable underfoot cushioning and expertly engineered Rock™ rubber soles help enhance your every move. At the same time, Cleated Mimic Grip™ technology gives all the grip you'll need. Colorways include black, navy and oakmoss nubuck, so there's something for everyone.
Men's comfortable slip-on shoes
Whether you're off to a wedding or are looking for summer beach shoes, choose slip-ons to combine comfort and style. We have just the pair.
Maximum style meets innovative footbeds with our collection of men's comfortable slip-ons, perfect for all occasions. Our Clarks Pro Step shoes in black or brown leather are ideal for formal events. For a more casual option, try our ShacreLite Moc shoes.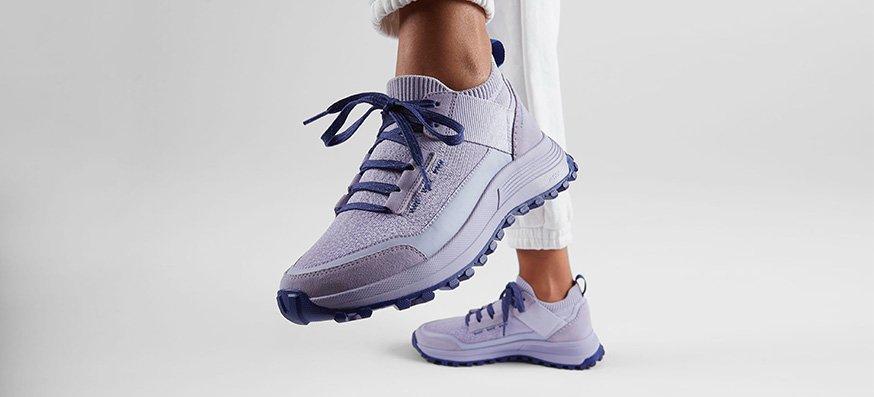 Women's shoes for sensitive feet
We've got you covered if you're on the hunt for the comfiest shoes for women.
Here are some of our top picks:
Women's comfortable sneakers
Sneakers are some of the best shoes for problem feet, making them a wardrobe essential. Lightweight and sporty, our Dash Lite Strap are some of the comfiest women's sneakers. With their breathable leather socks and contoured footbeds offering exceptional support, the Dash Lite Strap is perfect for everyday use. Leather shades include off-white and black, or you can choose a combination of nylon and suede in gray and teal hues.
Find out more about the sneakers we have available in our ultimate sneaker guide.
Women's comfortable walking shoes
Step into whatever life throws your way with a stylish pair of women's walking shoes. We know just how important comfort is, and our ATL Trek Knit sneakers are designed with the active woman in mind. With a shock-absorbing Cushion Soft™ PU foam footbed, elasticated lacing and a lightweight feel, these comfortable walking shoes will help you through all life's journeys.
Women's comfortable flat shoes
If you're in search of some good shoes for being on your feet all day, look no further than our collection of women's flats. They're some of the best shoes for swollen or aching feet, thanks to their breathability.
Pumps are the perfect day shoe that never goes out of fashion, and our Rena Way combines style with practicality. Designed to support each step, they're made with molded 20% recycled Contour Cushion footbeds, elasticated toplines for a custom fit and a breathable leather sock. More comfortable styles include the Trek Mule in black or sand suede and the Wallabee in 12 fantastic shades.
Whether you have persistent aches and pains or want shoes to carry you through long days, there are many benefits to finding a comfortable, well-fitting pair. Don't forget to make sure your shoes are the right size! Discover our entire collection of men's and women's footwear to get inspired.