Socks and sandals:
Fashionable or Faux Pas?
What do you think when you hear 'socks and sandals'? Once upon a time, an image of your dad might have popped into your head, but there's no denying that this look is one that's now on the rise. Men and women young and old are rocking socks and sandals, and this opinion-dividing pairing is now a total hit.
However you feel about the look, there are actually lots of benefits to wearing socks with your sandals. For one, with the added comfort of a sock between your foot and the sandal, you can wave goodbye to sweaty shoes and say hello to blister-free feet.
Need a little style inspiration to help you nail this trend? We don't blame you. Read on to find out how to wear socks and sandals, including which outfits work best and what colour socks you might like to wear.
Are socks and sandals fashionable?
It might have once been a fashion faux pas, but recently the socks and sandals trend has had the celeb seal of approval (and Vogue even gave it their blessing last year). Whether you choose to rock this style statement really depends on your own tastes – as, honestly, socks and sandals are a bit of a love/hate look.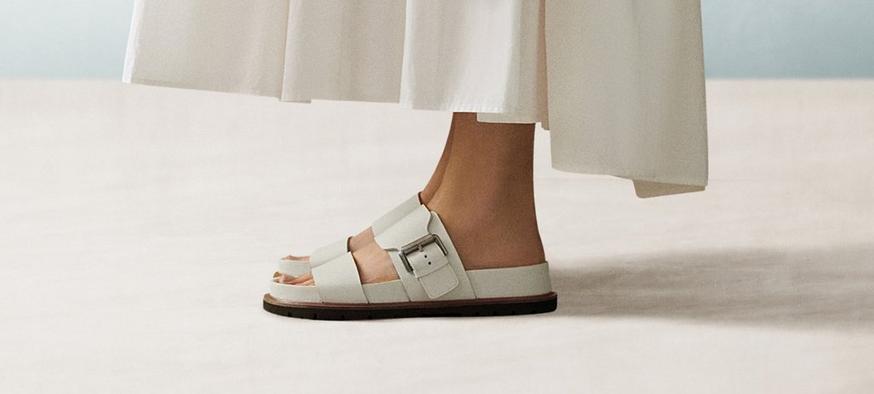 How to wear socks and sandals
When it comes to the socks and sandals combo, we all want to look like style leaders rather than dorky dads (though no judgement if that vibe is your jam). So, how can we pull it off?
What type of sandals go with socks?
The socks and sandals trend tends to focus on chunky, flat sandals, and while this is a failsafe pairing, there are definitely other options you can explore!
For women, delicate sandals with socks look great with floaty summer dresses, or you could try a heeled sandal with socks for a cool twist on a typically feminine look. Both men and women can keep things comfortable and casual with socks and sliders, which are essentially just a slip-on sandal.
What type of socks go with sandals?
If you fancy embracing all things bold, then it's time to get creative with your sock and sandal combos!
But, if you want to start by dipping your toes into the trend, try neutral-coloured socks and sandals in blacks, whites and beiges which will avoid potential clashes with other outfit pieces. As your confidence grows, add in pastels like baby blue and pale pink for a soft pop of colour.
If you're wearing socks in cool patterns like tie dye or floral, pair with neutral-coloured sandals to keep the look super stylish. If you're into the athleisure vibe, then branded sports socks also work well. As well as a rainbow of colours and plenty of patterns to choose from, there are also tons of options when it comes to the length of your socks, so get experimental. Most people tend to wear crew socks with their sandals (the standard sock length that finishes just above the ankle). If you're wearing shorts or a skirt you could opt for mid-calf socks instead for a more preppy look.
Socks and sandals outfit ideas for women
Sportswear is a trend that isn't going anywhere anytime soon, and is a great place to start when putting together an outfit that's completed by socks and sandals. For a sporty look try opting for a simple black t-shirt paired with loose-fitting shorts, and finish with white sporty socks and classic black sports sandals. For that 'put together' feeling, you might like to match the colour of your shirt to your sandals.
Feeling a little more daring? Choose a flowing maxi dress with white socks, and add strappy sandals to complete the look.
Socks and sandals outfit ideas for men
Socks and sandals go well with a variety of men's wardrobe pieces – from chinos and smart trousers, to jeans and shorts.
To keep your look casual, opt for black jean shorts with a simple t-shirt, or to elevate the look, pair formal trousers with an oversized sweatshirt, tying the look together with black socks and dark brown leather sandals.
Chunky sandals with socks
For a seriously fashion-forward look, you can't beat pairing your socks with chunky sandals. Chunky sandals and socks look awesome with mom jeans and a tucked-in tee – while men might like to try chunky sandals with tan chino shorts and a button-down shirt.
If you're ready to try out the socks and sandals trend for yourself, check out our men's sandals and women's sandals, in styles and colours that you'll love.