Five pairs of dress shoes
every man should own
For some, one pair of smart dress shoes might be enough, but if you're a shoe enthusiast and you want to expand your collection with styles to suit all manner of formal occasions, then there are several types of dress shoe you should consider buying.
The key to shopping for men's dress shoes is to invest in good quality pairs. Look for premium fabrics and the right fit, for shoes that'll keep looking their best year after year. Invest in a combination of black dress shoes and brown dress shoes, so you have a variety of smarter and more casual styles to complement different outfits and create variety in your collection.
Here are the five best dress shoes for men, to kickstart your smart shoe wardrobe.
1. Oxford shoes
Oxford shoes are a classic men's dress shoe that are believed to have originated in Oxford in the 19th Century, designed and worn by students at the world-famous university. They're also known as Balmorals, especially in the United States, with another commonly held belief that the style originated from Balmoral Castle in Scotland.
The style can be differentiated from other dress shoes by its "closed lacing" system, in which the shoelace eyelets tabs are attached under the front part of the shoe, known as the vamp. Oxford shoes come in a variety of styles, including cap-toe and wingtip, and a range of materials and colours, but for a truly classic and versatile pair, opt for a whole-cut black leather pair with no seams and no broguing. Investing in a black pair will ensure you can wear them for business, and to weddings and any other formal affairs.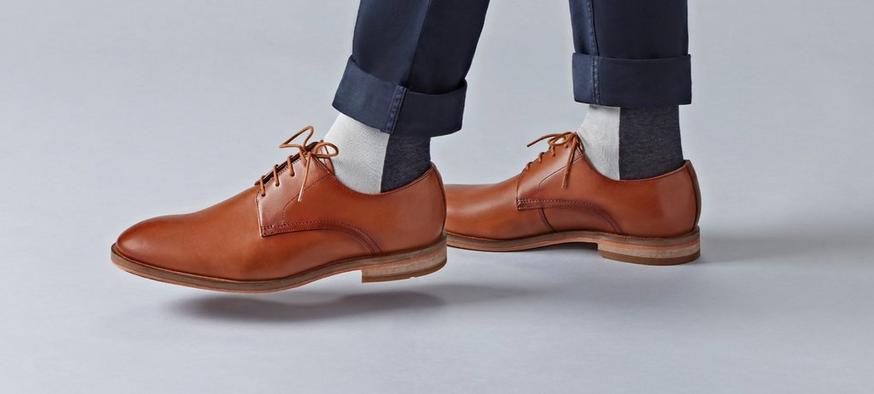 2. Derby shoes
Derby shoes, which are thought to date back to the same century as Oxfords, but with military origins, are slightly less formal than Oxfords. They feature "open lacing", meaning that the shoelace eyelet tabs are attached on top of the vamp. The looser laces create a more relaxed appearance and can allow for freer movement, making them a welcome addition to your dress shoe collection.
If you have a pair of black leather Oxfords, consider adding brown suede Derbys to your collection, to add a touch of understated formality to jeans, chinos, or smart trousers.
3. Brogues
Brogues are theoretically categorised as Oxford or Derby shoes, as they're usually constructed in one of these styles, but thanks to their signature decorative punched-hole detailing, they're often classed as their own shoe type, too.
Originally worn by farmers in Scotland and Ireland in the 19th Century, brogues were considered an "outdoor" shoe until the 1920s. Nowadays, they're seen as one of the most versatile dress shoes that can be worn to formal and informal occasions alike. Choose a smarter black pair to wear with a suit or a formal pair of trousers, or a tan style to team with jeans or chinos for a smart casual dress code.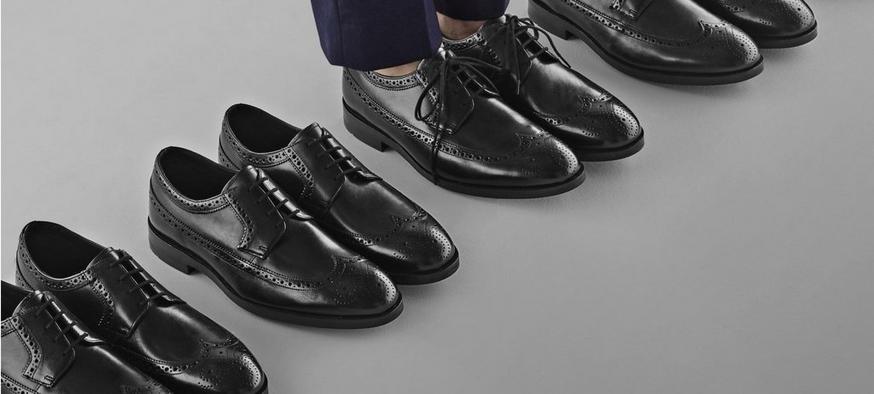 4. Loafers
A staple in every man's wardrobe, the loafer is a type of dress shoe that strikes a balance between smart and casual. Loafers are recognisable from their slip-on, no-lace design, with a moccasin-like construction. Some believe loafers to have evolved from the Native American moccasin, while others believe them to have originated in Norway, from humble beginnings as shoes worn by local farmers or fishermen.
While all loafers are united in having no laces, you can choose from lots of styles - from classic Penny loafers with a leather strip across the saddle, to metal strap Horsebit loafers and tassel-detailed loafers.
A more casual dress shoe, loafers look great with chinos, jeans, or even shorts in summer. Choose a black or tan leather pair for a smarter look, or go for a suede pair in blue, green, or even red to make a statement.
5. Chelsea boots
Boots might not be the most obvious choice for a dress shoe, but the right choice can add a stylish twist to your formal attire – even complementing suits. Chelsea boots are the ideal style to add to your collection̶ ̶ just be sure to choose a smart leather pair and keep them well polished and in good condition.
As is the case with many dress shoes, Chelsea boots were invented by the Victorians, but their name came about in the 1950s after they became a style staple for writers, artists and musicians in the Chelsea area of southwest London. In the 1960s they replaced the brogue as the workplace shoe of choice, so they've been considered a dress shoe for a large part of their history.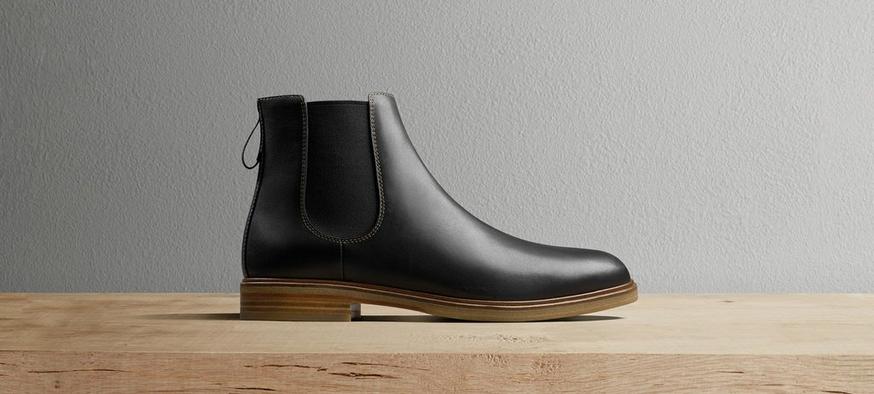 How should men's dress shoes fit?
Dress shoes, like all shoes, should fit comfortably. They should be neither too tight nor too loose, too big nor too small. Your toes shouldn't touch the end of your shoes, and you should be able to fit one finger snugly between your heel and the back of the shoe.
Find out more about how shoes should fit.
How to stretch men's leather dress shoes
You should avoid buying new shoes that don't quite fit in the hope that they'll stretch over time, but if your new leather dress shoes are just slightly too snug, you can gently break in your new shoes by wearing them for short periods of time around the house. Wear a thick pair of socks with them to help with the stretching process, and try the leather stretcher from our shoe care range to gently soften and stretch the material.
Explore our full collection of men's dress shoes, or broaden your search and find out about the other types of shoes every man should own.