How to wear desert boots
Desert boots have been a footwear staple for decades. Their origins can be traced back to Egypt, where British soldiers used to wear them on desert campaigns. They were bought from local bazaars, and soldiers chose them because of their comfort, durability and lightweight design. Their flat crepe sole also made them ideal for wearing on sand.
Nathan Clark was stationed in Burma during World War II, and he noticed many of his fellow officers wearing this unusual style of boot. He learned that these shoes had been originally created by the cobblers of Cairo's Khan el-Khalili bazaar, and so impressed was he by the design, he began creating his own after he returned home to England.
Decades on, the desert boot has become one of Clarks' most well-known and popular styles, offering the same practicality and comfort as they did to the soldiers in the Sahara. So how should you wear your desert boots? One of their best qualities is their versatility, so you can style them in virtually any way you wish, but to offer a helping hand we've created this guide with advice on how to wear your favourite boots at different occasions.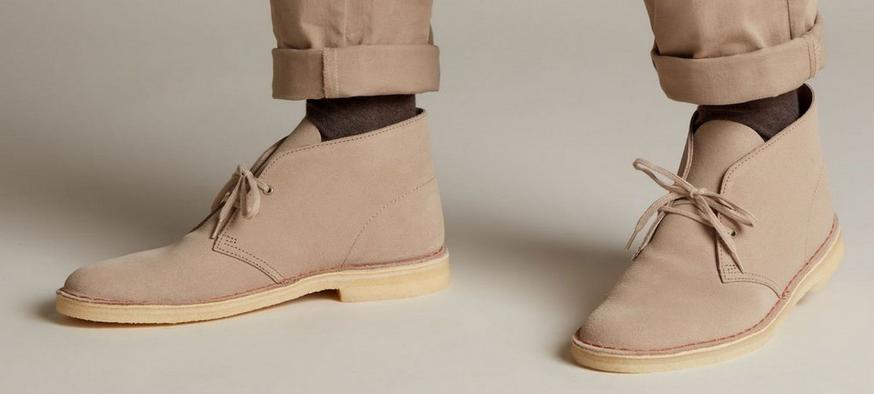 What is the difference between chukka and desert boots?
Desert boots fall into the category of chukka boots, so while all desert boots are chukka boots, not all chukka boots are desert boots. All chukkas are ankle length with a lace-up design, but what makes the desert boot different is its crepe rubber sole, which offers extra grip and added comfort.
When to wear desert boots
Desert boots are incredibly versatile and look great worn with a variety of outfits, to a variety of occasions.
On casual occasions
Casual affairs and desert boots go hand in hand, especially suede desert boots which tend to look more casual than their leather alternatives. Pair them with a relaxed yet stylish outfit, like a pair of jeans and a t-shirt, jumper or flannel shirt. Slim fit jeans work best, especially when rolled up to showcase your boots, but you can wear a different cut if you prefer.
In summer you can also wear desert boots with shorts. Boots in summer may sound controversial, but when you look back at the origin of the desert boot, they're actually designed to be worn in hot weather. Wear yours with denim shorts and an oversized t-shirt, or if you feel like making a statement with coloured footwear, pair a deep blue pair of desert boots with neutral coloured shorts for a fun but pared-down look.
On smart casual occasions
Smart casual can be a tricky look to perfect, but desert boots may just be the epitome of this style. They look wonderful paired with chinos and an unbuttoned shirt, and they can also be worn with a relaxed suit to take the formal edge off. Classic colours like brown, beige and black are best suited to the smart casual look as they won't take you too far into the casual realm.
While suede desert boots are best for dressing down a more formal outfit, leather desert boots can dress up a more casual outfit. Consider wearing jeans and a shirt with a pair of black or brown leather desert boots, or beige chinos and a shirt with a tan leather pair.
To work
So long as you don't work in a very formal environment, desert boots can certainly be worn to the office. To channel business casual, wear leather desert boots with chinos in a classic colour like beige, navy or black. Add a smart shirt in another classic colour like white or blue, or in a classic checked design, then add a belt and a jacket or tie if your office etiquette calls for it.
For a slightly smarter look team your desert boots with a suit - it's a look that's becoming more and more acceptable, so get ready to lead the way. As with jeans, you could even consider cuffing your suit trousers for a stylish statement.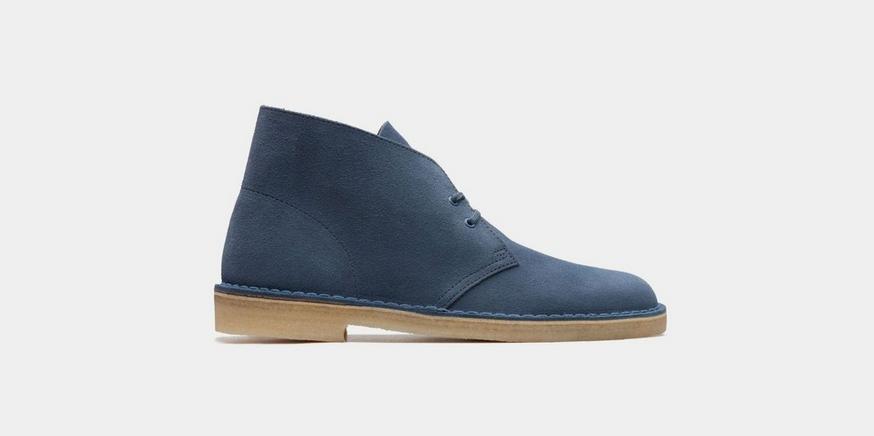 How to lace up desert boots
Desert boots only have two eyelets, so they're incredibly easy to lace. We recommend lacing them in the standard criss-cross fashion:
String the laces through each of the bottom eyelets, from outside to in, ensuring you have the same length of lace on each side.

Cross one end of the lace diagonally over the tongue, threading it into the second eyelet from the outside. Repeat on the other side.

Either tie the laces in a bow or tie off the ends and tuck them in.
How do Clarks desert boots fit?
Our desert boots are made true to size, however we advise that you measure your feet to find out the exact length and width that you need, and use our shoe fitting guide to find the right size.
Do Clarks desert boots stretch?
Our desert boots do stretch out a bit over time, but you should buy a size that fits you comfortably from the offset and not rely on them stretching.
How long do Clarks desert boots last?
How long your boots last will depend on how often you wear them and how well you care for them. With the right care they should last you for years to come.
Explore our full range of desert boots or check out our guide to the best walking boots and shoes for your outdoor adventures.