How to wear knee-high boots
Knee-high boots are making a comeback this year, which is no surprise given that they have a lot to offer. As well as providing extra coverage and keeping you warm in the winter months, knee-highs are also incredibly chic and can instantly elevate any look.
Perfect for work, the weekend, nights out and more, knee-high boots are a versatile addition to your wardrobe. Discover the different styles that are on trend this season, from classic black leather to bright and colourful incarnations, and find out how to wear your knee-high boots with a variety of outfits.
Types of knee-high boot
Flat knee-high boots
Flat knee-high boots are ideal for all-day wear. Make a statement with different textures, such as leather or suede. Black knee-high boots like our Pure Caddy knee-highs are an all-time classic and work well with a range of outfits. Pair them with skinny jeans, a t-shirt and a leather jacket for a stylish off-duty look, or wear them with a short skirt or dress for a chic evening outfit.
Heeled knee-high boots
Heeled knee-high boots are a statement in themselves, so wear them in a neutral tone like black for a glamorous look or take things a step further by choosing a bright and colourful pair that give a nod to the 70s, like our Laina 85 Hi in burnt orange. Colourful knee-highs are all the rage this season and they give you the chance to express yourself and have fun with it.
Slouch knee-high boots
There's something incredibly stylish about slouch suede knee-high boots, especially when worn with bare legs, a short skirt and a chunky knit. It's the perfect look for the weekend or for a date night. They also look great with skinny jeans tucked into them. Keep your jacket short to let your boots stand out.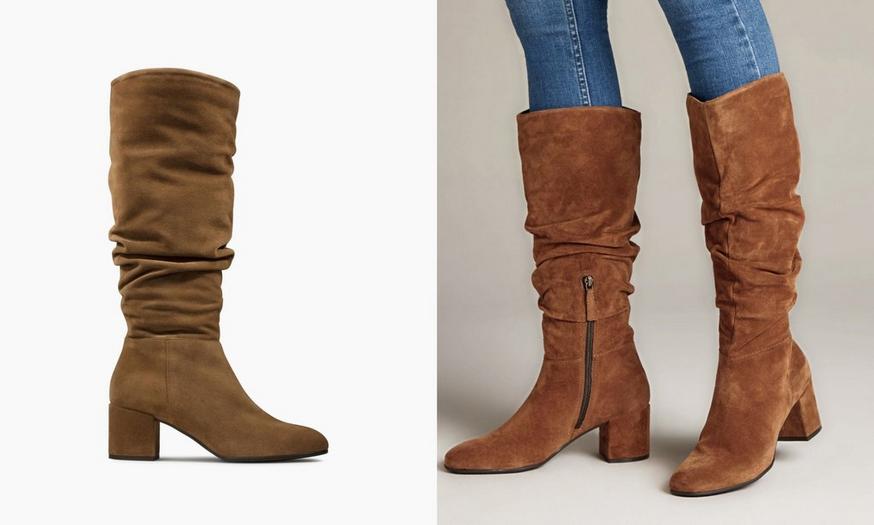 How to style knee-high boots with jeans
Knee-high boots look great worn with your favourite pair of skinny jeans. Baggier styles of jean don't work quite as well, so stick to skinny if you can and tuck them in to show off the full length of your boots. Throw on a cosy jumper and you have a quick and easy winter look that is so simple yet so elegant.
In the daytime, contrast the colour of your jeans and boots, pairing blue jeans with black knee-high boots or black jeans with brown boots, but in the evening wear black jeans with black knee-high boots for a coherent and refined night-time outfit.
How to wear knee-high boots with a dress
Wear your knee-high boots with a dress for a feminine and modern look. Knee-high boots will instantly elevate your outfit, no matter how casual your dress is. Try wearing heeled knee-high boots under a midi dress in the daytime, or style a pair of flat knee-highs with a mini dress for a sophisticated evening look. Black knee-high boots will go with most outfits, while brown styles generally work best with more casual getups.
What to wear with knee-high boots on a night out
For a stylish evening look, wear black knee-high boots with black jeans and your favourite going-out top. Alternatively, pair them with a mini dress and blazer or a leather skirt and blouse. Heeled knee-highs will add glamour to your evening look, but if you prefer wearing flats on a night out then flat knee-highs can look just as chic.
How to wear knee-high boots to work
Knee-high boots are smart by nature, so they are a natural choice for your work wardrobe (if you don't work in too formal an environment). Stick to black to keep the look professional and polished, and be sure to pair them with an appropriate-length outfit. Wear them with tucked in trousers or a midi dress or skirt for the ultimate business casual look.
How to transition knee-high boots from winter to spring
Not just to be worn in winter, knee-highs can be worn well into spring too. Instead of cosy knits, pair your boots with jeans and a blazer, with a shirt dress and denim jacket, or with a shift dress in the evening.
Whether you're feeling drawn to suede or leather, black, tan or colour, find your perfect pair of knee-high boots from Clarks.