What to Wear with
Silver and Gold Shoes
Whether you're looking to elevate a casual daytime outfit or give your eveningwear an extra dose of glamour, look no further than a pair of metallic shoes. Surprisingly versatile and incredibly effortless, a pair of gold or silver shoes is a wardrobe must-have at any time of year.
You'll have seen gold and silver shoes out and about, on the catwalk and the red carpet, and the metallic trend isn't going anywhere. But what should you wear them with? Read on to find out what goes with gold and silver shoes, as well as how to protect metallic shoes and keep them in good condition for years to come.
What do metallic shoes go with?
Metallic shoes work with more outfits and colours than you might think. Treat them as a neutral, as you would a grey or a tan, but adding more shimmer and excitement to virtually any outfit.
Dress up denim with a silver or gold heel or flat, or pair your metallics with leather for edgy elegance. Just avoid wearing your shoes with metallic accessories or clothing; a small hint of metallic is all your outfit needs.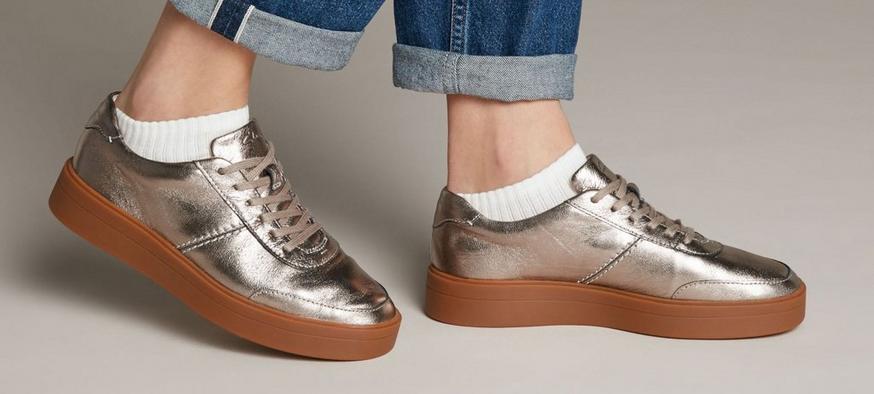 What to wear with gold shoes
Gold shoes are an effortless way to add a touch of glamour to any outfit. Wear a pair of gold pumps like the Grace Piper shoes with skinny jeans and a white shirt, and the result is a simple and elegant outfit that looks chic, but still subtle. You could also channel the athleisure aesthetic and wear a pair of metallic gold trainers with your outfit, like the Hero Walk.
Golden tones work nicely with warm neutrals, like tan, camel and olive. Try a muted outfit created in variations of these shades and notice how a pair of gold shoes adds the perfect finishing touch. Depending on the outfit, try the Pure Tone slip-on shoes that double up as mules, or the Griffin Kilt loafers.
In the evening, a pair of gold heels is sure to turn heads. Wear them with a simple monochrome outfit for understated elegance, or with a red dress for a bold yet classic colour combination. With their pointed toe and dainty buckle fastening, the Laina 55 Sling are the perfect gold party shoes to add to your wardrobe.
What to wear with silver shoes
Silver shoes are generally more understated than gold, so they're a good way to ease into wearing metallic on your feet. Black and white work particularly well with silver, as do cool neutral shades like grey, icy blue and very soft pink. In the daytime, pair silver shoes with pale blue denim and pastel shades or with a neutral or monochrome combination. Depending on your outfit choice, add a sophisticated flat like the Hamble Loafer, or a sporty yet chic shoe like the Trace Walk.
At night, a pair of silver heels like the Deva Mae looks stylish with a little black dress or a monochrome trouser-and-a-nice-top combination. Keep patterns and accessories to a minimum as your shoes will add enough vibrancy on their own.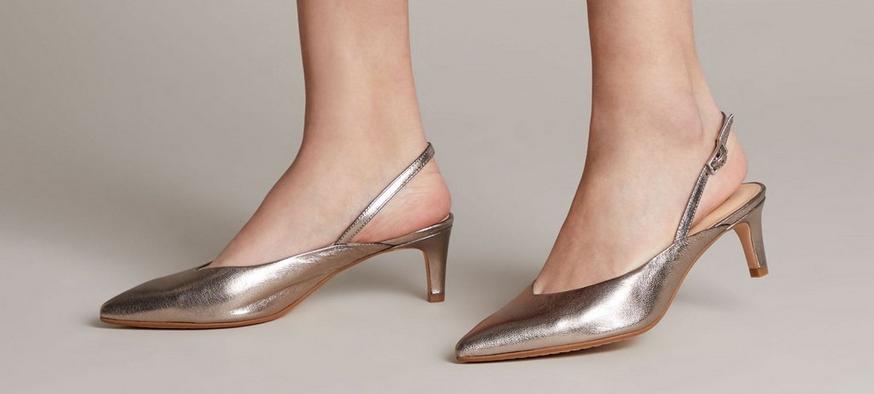 How do you protect metallic shoes?
Metallic shoes can lose their shine over time – it's a natural part of their aging process – so it's important to take care of them to keep them in good condition for as long as possible.
Metallic leathers are sensitive to solvents and alcohol such as perfume, and if these substances come into contact with the material, they could remove the metallic finish. For this reason, you should avoid using any product containing solvents or alcohol.
Keep your metallic shoes stored away from direct sources of heat and humidity, which may cause them to lose their shine, and it's also a good idea to use a waterproofing spray on metallic shoes to help prevent water-based stains. Be sure to use a spray suitable for metallic leathers – a water-based product with no alcohol or solvents.
Metallic finishes can be sensitive to scuffing, so take care to treat yours gently in order to keep them looking their best. When metallic leather scuffs, the leather underneath is exposed, and the metallic finish can't be reapplied or restored. If your metallic shoes do get a little scuffed, then don't worry ̶ embrace the new look and added character.
To clean your gold or silver shoes, gently wipe them with a soft damp cloth. You can also use a soft suede brush to lightly clean away any loose dirt, but be sure to be gentle so as not to damage the surface.
Ready to find your next pair of gold or silver shoes? Explore our full collection of metallic shoes, or find out more about our range of comfortable party shoes.