White Shoes: The Best White Shoes and How to Wear Them
Nothing beats a pair of fresh white kicks for a pep in your step – and these transitional beauties are fast becoming one of the coolest colour choices for summer.
From dress-up moments to off-duty outfits, white shoes go with just about everything. Looking for tips on how to style them? Read on to discover how you can look super-stylish in white shoes – whatever the season or occasion!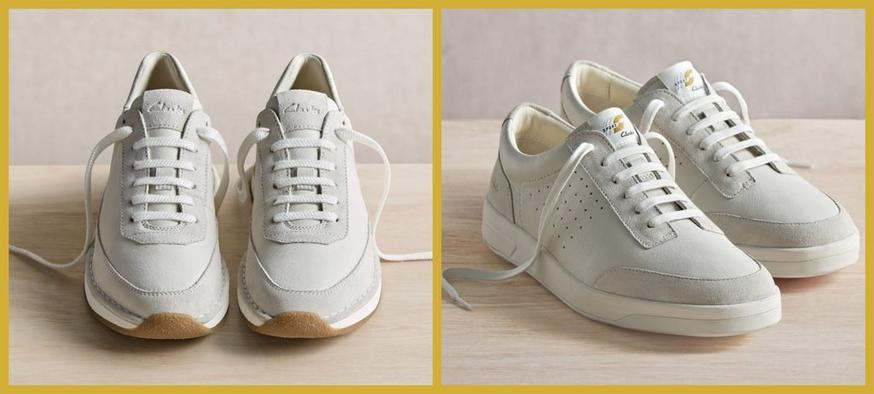 Are white shoes in style?
Absolutely, always. From chunky white trainers to classic white sliders, you simply can't go wrong with white shoes. And with so many stylish and unique designs on offer, it's a trend that leaves you free to mix and match outfits without any shoe-clashing concerns.
When to wear white shoes
We firmly believe white shoes can be worn all year round – but if you're all about low-maintenance looks, then you might decide to wear them in the spring/summer months when it's much easier to keep them looking crisp.
From trainers and canvas shoes to sandals and heels, there are so many different styles of white shoes – and their versatility means you can wear them almost anywhere. Afternoons picking the kids up from school? Tick. Dress-up date night? Check. Sunny Saturdays at the park? You bet. Get ready to brighten up your shoe collection with white!
Best white leather shoes
From trainers and brogues to sandals and loafers, there's no shortage of white leather shoes on the high street. Choosing a shoe in leather is a great way to ease into the white shoe trend – and since leather is a more forgiving material, it's generally less of a hassle to keep them spick and span.
For a smart office look, pair some white leather pumps with a cream blouse and simple black trousers. Or to rock a more smart-casual dress code, opt for some cute white wedge heels with a fitted mid-length skirt.
Best white trainers: women's and men's
The trusty chunky white trainer is now a staple in all walks of life – and we can't say we're surprised! Not only are they super comfortable, but you can wear white trainers with pretty much any outfit, no matter where you're headed. And thanks to the rise of athleisure, they're super on-trend, too.
What to wear with white trainers
We can't stop talking about their versatility for good reason. White trainers can do no wrong in the fashion world, so you'll find it easy to put together an outfit. Perfect with jeans, midi skirts, trousers and dresses, treat them well and white trainers will be your best fashion friend.
Looking for inspo on how to wear white trainers? Try pairing them with blue mom jeans for a laidback summer look –or if you're just lounging around at home and spending some chilled time with the family, wear your white trainers with simple black leggings and a comfy hoodie.
White trainers to wear with dresses
Outfits with white trainers have become all the rage, and the white trainer and dress combo is at its absolute peak of popularity. The key to making this trend work is to opt for a casual dress – floral, flowy tea dresses and plain summery bodycons are great options – and you can easily add a cute denim jacket for those chillier days. Let your shoes do all the talking and pair with ankle socks or make a statement with some branded quarter socks. The choice is yours.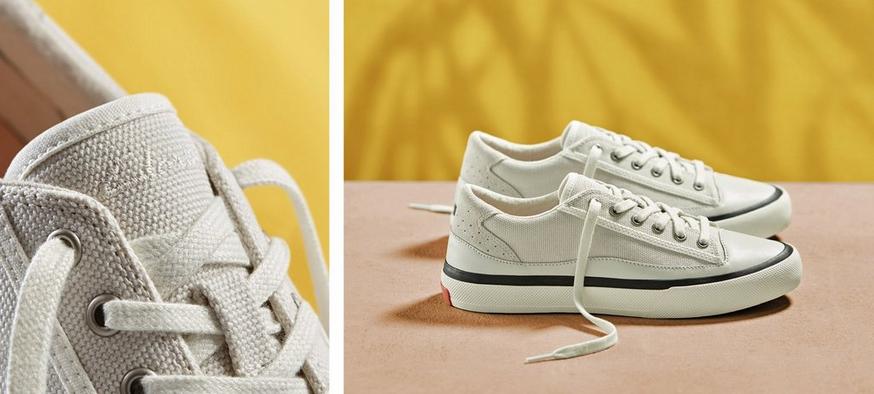 How should men wear white trainers?
You'll be happy to hear that white trainers are just as versatile for men as they are for women! From jeans and chinos to smart suit trousers and casual, comfy shorts, you'll struggle to find a wardrobe piece that white men's trainers don't go with.
If you're heading to work, pair some chinos with a polo shirt and white kicks. Or why not wear your white trainers with a simple tee and some relaxed shorts for those hazy summer afternoons in a beer garden? The UK weather can be unpredictable at the best of times—so knowing how to keep your trainers looking sparkly white is key!
White sandals
When it comes to summertime, nothing sets your feet free like white sandals. Perfect for the sunniest of days, white sandals can accompany you as you make all those special memories, from relaxing trips to the beach to romantic date nights.
White heeled sandals elevate any outfit for a perfect summer evening look, or are ideal for those who want to feel extra glam while lounging around the holiday pool. If you like to wear heels in the daytime, then white wedge sandals are a go-to style, offering a little extra coverage and support as you go about your day.
White sliders
For a cute and contemporary take on the white sandal, slip into white sliders. Wear these gender-neutral shoes to the beach, in the garden or out and about for effortless summer style.
For maximum style and comfort points, choose sliders with an athleisure-inspired aesthetic and plenty of support to keep your feet comfortable all day long. Chunky soles are also a style hit right now, so why not choose an extra chunky pair? Wear your sliders to the pool or at a sunny picnic with friends for an effortless, summery look.
Best white casual shoes
For those on-the-go days, white casual shoes are going to be your best friend. Leather trainers offer a relaxed look, and canvas shoes work just as well for oozing that effortless, everyday style. Sturdy and flexible, the canvas material is designed to let your feet move and breathe easily, and with grippy rubber outer soles, they're the perfect match for any activity.
Wear your white casual shoes with that classic 'jeans and a nice top' combo, or team with sporty leggings and a loose sweatshirt if you're planning on getting (or just looking) active.
From casual women's trainers to smart leather brogues, white shoes can be dressed up or down to perfectly complement any outfit, making for a great summer wardrobe staple. Explore our full range of white shoes to discover the best pair for you.