Clarks Product Safety Notice
Clarks is advising all customers who bought shoes from the Vibrant children's shoe range to remove the toy from the heel of the shoe and dispose of it.
The toys, known as 'Find its' were torches in the form of insects and bugs.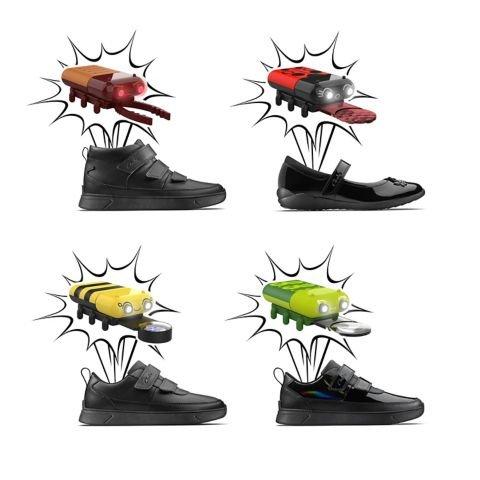 We have identified a potential safety issue with the toy that is contained within the heels of these Vibrant school shoes. There is no issue with the shoes themselves, just the toys.
Following extensive re-testing of the toy, we have identified a potential hazard, where with age and extensive wear and tear, the plastic casing of the toy could crack. There is a risk of the toys breaking if left in the shoe, leading to ingestion hazards from small parts potentially including the button cell battery.
There is no fault with the shoes themselves and they are perfectly safe for children to continue to wear. We are simply advising customers, out of an abundance of caution, to dispose of the toy with your small electrical item/battery waste (please check with your local council for guidelines on this in your area).
If you require further assistance, please use our contact page options.
Questions you may have
How do I know if my child has a pair of the affected shoes?
The shoes containing the toy were named Vibrant Glow, Vibrant Trail and Vibrant Oak. There are no issues with the shoes themselves, but we're advising customers to remove the toy from the sole if they have not done so already. The toy can be accessed by lifting the insole.
Can I claim a refund or return the shoes?
We are not offering a refund for these shoes as the shoes are not faulty.
Are the shoes safe to wear?
Yes. There is no risk to children from wearing the shoes. We recommend that the toy is removed from the shoes and disposed of.
How do I dispose of the toy?
The toy can be disposed of in line with local council guidelines for disposing of small electrical items/batteries