How to wear ankle boots in winter
Year after year, the trusty ankle boot continues its reign over the women's shoe category, and we have to say, we're here for it. Practical, comfortable, and fabulously stylish - and totally ruling on the versatility front - ankle boots can see you through the sunny summer months and chilly winters, no matter the outfit or occasion.
There's not much that ankle boots don't look good with - and with a wide range of styles to choose from, from casual Desert boots for day-to-day wear to chic heels, you can dress to impress every day in your ankle boots. Read on to discover the different types of ankle boot that are on trend this season and find out how to style them in our super handy guide.
Different types of ankle boots
Chelsea boots
Typically made from leather, with a rounded toe, a low heel and an elastic side panel, Chelsea boots are a shoe that everybody needs!
They were first designed way back in the Victorian era, but their popularity soared in the 1950s as artists and musicians in the Chelsea Set began to rock them. Talk about a star-studded history! These days, Chelsea boots are more popular than ever - and the best bit? They look amazing with virtually any outfit, from jeans and leather jackets to floaty skirts and t-shirts. Find out more about how to style Chelsea boots.
Desert boots
With a lace-up design and crepe rubber sole, our Desert boots are a fabulous alternative to the Chelsea boot. They're usually made from suede, come in a range of cool colours and look just as great with a cute pair of jeans as they do with a skirt or dress.
Like Chelsea boots, these stylish boots have been a footwear staple for decades. They were first introduced to the UK after World War II, and it's no surprise that they remain one of our most popular styles today! Wear them with black jeans and a soft jumper for a cosy but stylish winter look, or pair with a floaty black midi dress for warmer occasions.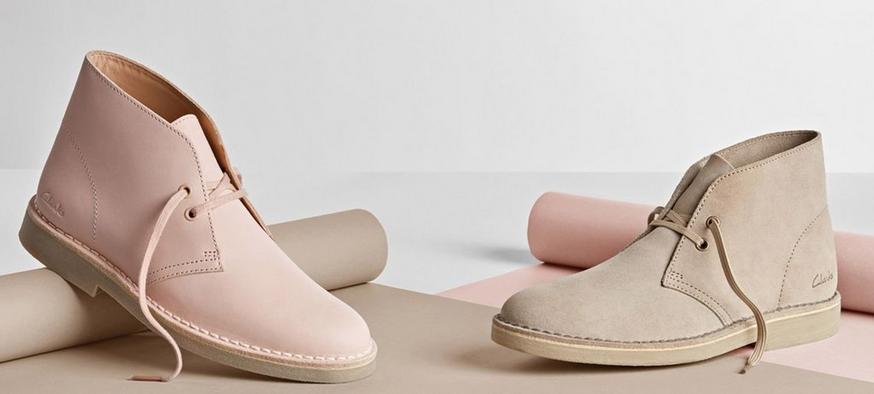 Heeled ankle boots
Looking for a way to dress up your outfit while still keeping comfortable? Try a heeled ankle boot! Since ankle boots cover your entire foot and ankle, they'll keep your feet nice and cosy during the winter months, making them the perfect option for a winter date night. What's more, heeled ankle boots will take you effortlessly from day to night, and are smart, professional and stylish all wrapped up in one! From heeled Chelsea boots to heeled lace-up styles, there are designs and heel heights to suit every taste and preference.
Walking boots
The trusty walking boot is an essential for any wardrobe - even if the thought of hiking makes you want to run for the hills. No longer just for outdoor adventures, this season's walking boots make a fabulous edition to any casual outfit, no matter whether you're walking the dog or popping to your local pub for a Sunday roast. Think sporty-chic!
Both practical and stylish, their chunky nature will add an instant edge to any outfit - and we can guarantee these will be the comfiest pair of shoes you've ever owned.
A guide to ankle boot outfits
How to wear ankle boots with jeans
Is there a more classic pairing than ankle boots and jeans? Who said you couldn't look stylish and comfortable at the same time? Since they're so versatile, ankle boots work well with so many styles of jeans - but here are just a couple of ideas for inspo...
Tucking skinny jeans into ankle boots will keep your legs and feet nice and toasty. Alternatively, expose your ankles just a touch by rolling up your jeans so they're sitting just above the boot.
If you'd prefer to wear your jeans over your ankle boots, opt for bootleg jeans with a streamlined ankle boot like a Desert boot or another lace-up style, or wear them with heeled ankle boots for an elegant evening look.
Wide leg jeans are all the rage at the minute, so stay bang on trend by pairing your jeans with some chunky soled walking boots, or opt for heeled Chelsea boots to switch your look from day to night. Pick an ankle boot that is medium or high for instant style points!
How to wear ankle boots with dresses and skirts
Ankle boots look super stylish when worn with a dress or skirt, making them the ultimate necessity in the colder winter months. One particular favourite combo of ours is the Chelsea boot with a skirt, and why not opt for heels if you want to elongate those pins?
To add a burst of excitement, create some fun contrast between your dress and your boots. Try styling a floaty midi dress or skirt with a chunky pair of ankle boots, or pair an elegant cocktail dress with a more casual leather ankle boot.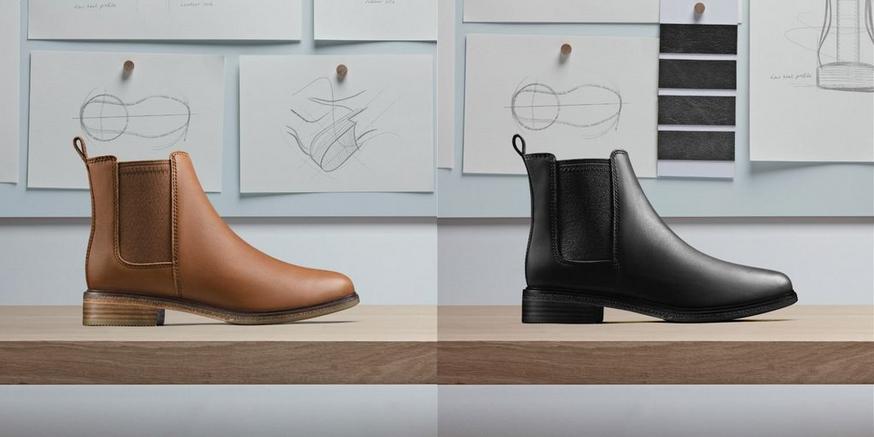 How to wear ankle boots to work
In true versatile style, ankle boots can be dressed up as well as down! You can pop on a pair for work, before continuing the evening at a fancy restaurant without having to switch your shoes. The key for super formal events is to choose a smart pair of leather ankle boots and ensure they are well-cleaned and polished.
Ankle boots with pointed toes and slender heels are a fabulously sophisticated choice. Pair your ankle boots with a smart dress or suit for work, or for evening events wear them with a smart trouser and blouse combo.
Winter ankle boot trends 2021 - 2022
Colourful boots
To make your beautiful boots the focal point of your outfit, why not opt for a fun pair of coloured ankle boots? From orange and red to pink and blue, pick your favourite shade of the rainbow and inject some colour into your look.
Keep the rest of your outfit muted for a more toned-down look to allow the boots to really stand out, or opt for an outfit in the same shade as your boots for a look that's guaranteed to turn heads.
Pointed toe boots
Perfect for a night out with the girls or a cute date, pointed toe boots are the perfect dressy shoe. Pick from a huge range of different styles, shades and materials, from soft black suede to polished white leather, and have fun getting creative with your outfit.
Pair your pointed toe boots with jeans and a nice top for an evening out in town, or for a formal work look, try them with an elegant skirt suit set. You'll be the envy of the office!
Chunky boots
Chunky boots have been a style staple since the chunky shoe trend took off a couple of years ago, and we're happy to report that they're not going anywhere anytime soon! Just like the chunky trainer, chunky boots add a sporty, more masculine edge to any look, and make for a great addition to any outfit.
Style them with thick socks, leggings and an oversized jumper for a casual daytime look, or pair with a button-down shirt dress and a cropped denim jacket for a head-turning evening outfit.
How should your boots fit around your ankle?
Different styles of ankle boot will have a slightly different fit, but generally, your boots should fit nice and snug around your ankles without feeling too tight or too loose.
One way to tell if your boots fit properly is to pop a finger between the back of your ankle and your boot. There should be enough space for one finger to easily fit in there, but any more than that and the boots might be a little on the loose side! If you can't even manage to squeeze one finger between your ankle and your boot, then they might be a bit too tight.
It's worth trying on your shoes before you make a purchase, or why not make the most of our in-store fitting service to find your perfect fit and style?
From Chelsea boots and walking boots to chunky-soled styles and pointed heels, there's an ankle boot for every style, preference and occasion. For more style tips and advice, take a look at our guide to knee high boots, or discover how to rock a pair of biker boots.