How to Choose Boots for
Different Body Shapes and Leg Sizes
We're just putting it out there now—every body type looks amazing in every type of boot! Whether you've got killer curves or are slim and svelte, and are tall, small or somewhere in between, the perfect pair of boots are just a click away.
While we can flaunt our gorgeous bodies in clothes that make us feel amazing, finding the perfect-fitting pair of shoes is just as important—especially when it comes to boots! Luckily, we've put together a handy guide to help you choose a pair of boots that will fit like a glove. We'll teach you how to measure your calves, while helping you find the ideal pair of boots for your body type.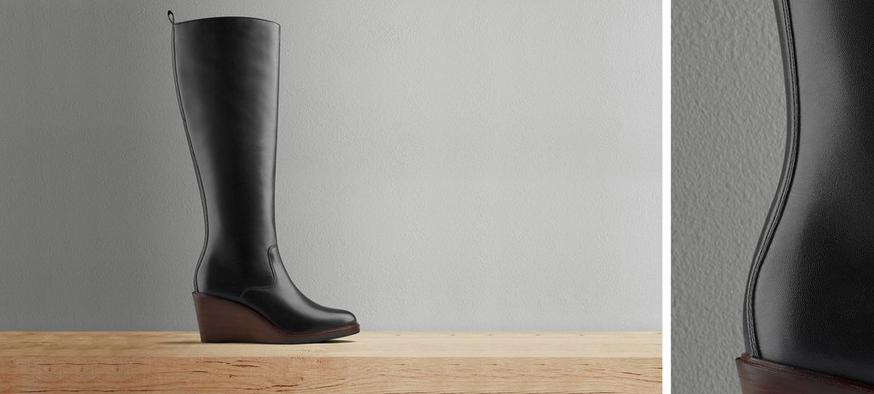 How to measure your calves for boots
There's nothing worse than having gaping boots or feeling as if your legs are being suffocated! So if you want a pair of boots that will snugly fit your calves without being too tight or too loose, then it may be worth measuring your calves. It's super easy to get your measurement—simply sit with your foot on the ground and your leg folded to 90 degrees, then follow the steps below.
How to measure calf height
To find your calf height, take your tape measure and measure from the base of the foot to the fold of the knee. Knowing your calf height is super handy when buying knee-high or over-the-knee boots.
How to measure calf width
To find your calf width or circumference, this time you're going to want to wrap the tape measure around the widest part of your calves. If you're going to be wearing heeled boots, then stand on your tip toes to tense your calf and measure again.
What is the standard calf width for boots?
Generally speaking, standard women's boots have a 14-to-15-inch calf circumference—but this can differ depending on where you're shopping.
What is a wide calf width for boots?
While each shop has its own sizing, wide-calf boots will often begin at around 16 inches in circumference.
If you've fallen in love with a pair of boots but can't find the measurements, then check out the shop's overall fit guide. Most boots come in narrow, standard, wide, and extra wide fits – and as well as the width of the shoe differing, the circumference will also be wider or narrower depending on the fit.
The perfect boots for every body type
We've already established that boots are for all bodies, but while we believe there shouldn't be any specific rules stating who should wear what, there are particular styles that look amazing with certain body types:
Ankle boots
A timeless wardrobe classic, ankle boots can do no wrong—and since they sit just below your calves, you don't have to worry about faffing with measurements. From zip-up and elasticated fastenings to wide and slim fits, you can find timeless ankle boots that fit perfectly.
Popular styles include Chelsea boots and Desert boots, in materials like leather and suede. If you're on the shorter side and would like bit more height, choose an ankle boot with a heel to lengthen your pins. Since they're so versatile, ankle boots can be worn with virtually any outfit, from mom jeans and a casual tee to a floaty, feminine summer dress.
Mid-calf boots
Practical and stylish, mid-calf boots are the ideal boots for skinny legs, since the cut across the calf can visually widen the appearance of your pins. Choose between a suede or leather pair, and style over the top of your favourite skinny jeans.
Knee-high/over-the-knee boots
Perfect for a special occasion and guaranteed to keep your legs extra toasty over the winter time, knee-high boots and over-the-knee boots are the perfect pair for the curvier woman. These boots help give the illusion of a longer and slimmer leg, particularly if you're opting for a heeled pair.
If you're looking for knee-high boots for skinny legs, then make sure the width of the boot is going to fit you comfortably without the boots falling down. Wear over the top of skinny jeans, or with a fitted dress and tights for a glam evening look.
From flat ankle boots to heeled knee-highs, there's a pair of boots for every body shape. Explore our full collection of women's boots to discover the latest styles, or take a look at our blog where you can find tips on how to wear ankle boots and how to wear knee-high boots.