How to style boat shoes
As the name suggests, boat shoes, or deck shoes, were originally designed to be worn by sailors as a response to the challenges faced by slippery decks on the roaring seas. In 1935, sailor Paul Sperry was inspired by the natural grip in his dog's feet, so he mimicked this by carving treads into the bottom of his shoes' rubber soles to improve traction on the deck of his ship.
Fast forward four decades to the 1970s and the boat shoe evolved into a stylish footwear choice worn across the globe. They are typically made from water-resistant materials – leather with soft rubber soles – though many styles now use canvas instead of leather. Though canvas isn't water-resistant, it does benefit from being quick to dry.
As you can wear them with most of your wardrobe, men's boat shoes have become a summer staple – find out how to wear boat shoes with all your favourite outfits in our styling guide.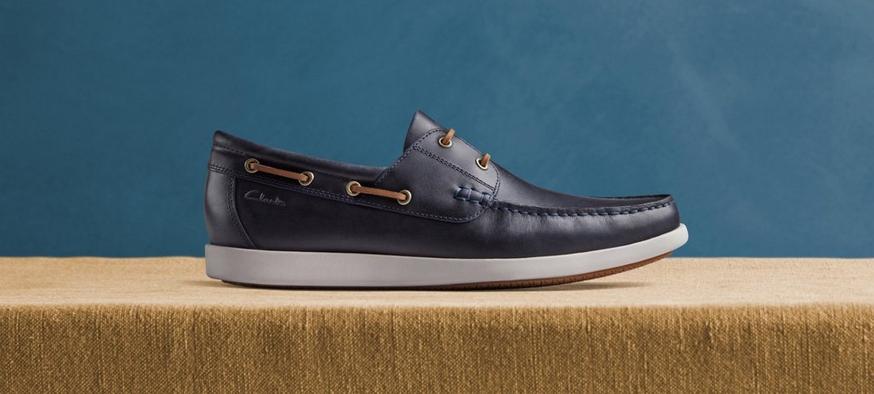 When to wear boat shoes
The incredible versatility of boat shoes makes them ideal for casual or smart-casual spring and summer events. Designed to keep your feet cool, they're a go-to for the warmer months – try boat shoes at the beach, BBQs, garden parties or dinner and drinks with friends.
If your dress code at work is business-casual, then opt for boat shoes at the office – they're ideal for adding a stylish touch to workwear without looking too corporate.
As boat shoes were made for maritime activities, it's no surprise that it's okay to get them wet! That said, it's best to keep them away from large amounts of water – so look out for any heavy downpours on the horizon.
If you love a leisurely stroll, then boat shoes are a great way to keep comfortable and still look smart – so there's no compromise on style.
Are boat shoes in style?
For sure! If you're looking for timeless shoes that are perfect for adding to a capsule wardrobe, then these are a no-brainer. A summer wardrobe staple for many men, boat shoes stay on trend year after year thanks to their versatility, comfort and style.
How to wear boat shoes
It's all in the detail. We think boat shoes tend to look their best when the laces and stitching are fully on show – so try yours with tapered trousers, cropped styles or trousers with the cuffs rolled up slightly.
Men's brown or black leather boat shoes are a popular choice if you're following a smart-casual dress code, while if you're after a more relaxed, preppy look, try navy boat shoes. Read on to find out which wardrobe essentials you can pair with your boat shoes.
Boat shoes with socks
Most people choose to wear boat shoes barefoot as they're crafted for feeling comfortable and airy without socks – but you can always add invisible socks or shoe liners for added comfort while still keeping a classic look. If you're going for a more preppy 80s style, then try experimenting with white crew socks or graphic sports socks – a great on-trend update.
Boat shoes with jeans
Boat shoes look great with denim as part of a laid-back summer look, especially with rolled-up jeans to showcase them. Add a plain t-shirt or jumper, go all-out sailor with a stripy top, or embrace smart-casual with a summer shirt.
Our Durston Lace boat shoes are comfortable, lightweight, and come in a variety of nautical colour combinations. Try a navy pair with white stitching for a true nod to the nautical –or for a smart look, team blue jeans with a tan pair.
Boat shoes with chinos
As the ultimate preppy shoe, team your boat shoes with chinos and you've got a match made in heaven. We think colour contrasts work best – try taupe chinos with a navy or dark down boat shoe, such as our Durleigh Sail. Or if standing out is your thing, you could try brightly coloured chinos with a neutral hued shoe. Complete the look with a polo shirt for the daytime or a long-sleeved, button down shirt for the evening – preppy perfection.
Boat shoes with shorts
Boat shoes make a great pairing with shorts, instantly smartening up the summer look. Pair denim or cargo shorts with casual boat shoes like the Ormand Boat, or opt for tailored shorts and choose a pair of Ferius Coast boat shoes in a complementary or contrasting colour.
How to take care of boat shoes
How to break in leather boat shoes
The best way to break in boat shoes is by simply wearing them regularly until they're moulded to the contours of your feet (top tip: tying your laces tightly will help to stretch the fabric and speed up the breaking-in process.)
It's a good idea to wear your new boat shoes around the house until they're properly broken in, so that you always have the option to take them off if you need to. Wearing thick socks initially can also help to create a barrier between your feet and your shoes, protecting feet from blisters.
How to clean boat shoes
Boat shoes should be cleaned with care to keep them in the best condition possible. Before you begin cleaning, remove any laces, as these can be washed separately using a bowl of cold water and some dish soap.
To clean your boat shoes, use a damp microfiber cloth with some leather cleaner, and apply dish soap to any stubborn scuffs or stains. Leave your shoes and laces to dry in a shady spot for a minimum of 24 hours.