The best men's summer shoes 2021
Summer is fast approaching, which means it's time to start thinking about unearthing your seasonal wardrobe and refreshing it ready for the sunshine. From flip flops and sandals to boat shoes and loafers, when it comes to men's summer shoes, there are plenty of styles to choose from depending on the occasion. We may not know exactly how our summer will pan out, but there's no time like the present for revamping your wardrobe.
When it comes to choosing your next pair of summer shoes, comfort is key. So, as well as style, consider practical factors such as materials, as you'll want shoes that are breathable in warm weather. Check out our pick of the best summer shoes for men, including casual pairs, slip-ons,and styles to wear with shorts.
Best casual summer shoes for men
Boat shoes
Boat shoes are a wardrobe staple and the perfect smart-casual summer shoe for men. Originally designed to be worn by sailors, they're typically made from canvas and leather and are designed to dry quickly when wet, making them ideal for wearing on the beach, the deck or even on a summer walk when the weather is a little unpredictable.
At Clarks, we have boat shoes in suede, leather and canvas. Our collection offers a fresh twist on nautical styling by teaming cutting edge technology with premium materials. Check out our Durleigh Sail boat in a variety of classic nautical colour combinations with subtle stitching details, or explore our Ormand Boat shoes for a fun take on the silhouette.
Sandals
When the sun is well and truly shining, it's no surprise that one of the best summer shoes for men is the sandal. Along with flip flops, sandals are the closest you can get to that barefoot feeling while still wearing shoes.
Our collection of men's summer sandals features styles made from leather or textile, with both smart and casual pairs available depending on your needs. Some flat sandals can lead to discomfort after a day on your feet, but our men's sandals have arch support to keep you comfortable all day long.
For a casual, minimalist look, sliders are an on-trend choice – so check out our Sunder Cross sandals in black or brown leather, or embrace the weather to the fullest with Desert Sndl in black or tan leather
Trainers
You can always count on trainers for a casual summer look and total comfort. So much so, we've dedicated an entire section to them below.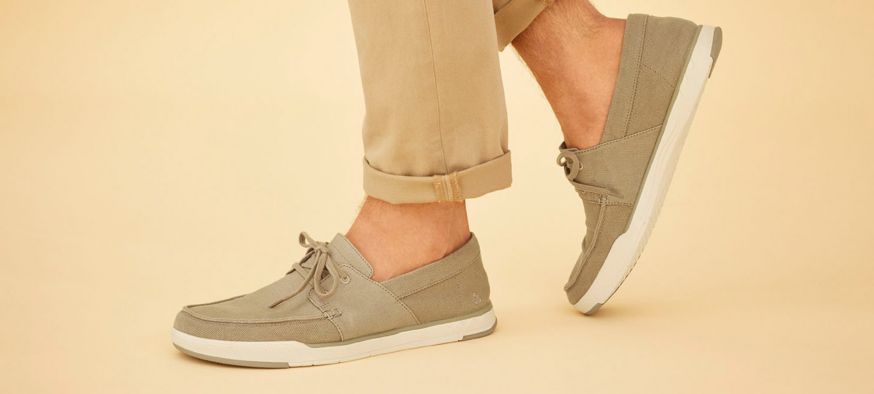 Best summer trainers for men
Trainers are a go-to year-round, but they're particularly ideal summer shoes for men, providing a combination of support, coverage and breathability. Look for breathable fabrics like canvas and suede for ultimate comfort and freshness.
Our collection of men's trainers features styles for everyday wear, in an array of designs, materials and colours – plus, we also offer trainers in wide fits to suit a variety of foot shapes and sizes. For a classic sports casual look, try our Un Costa Lace trainers, or for added fun check out our Bizby Lace trainers, that feature retro-inspired pops of colour.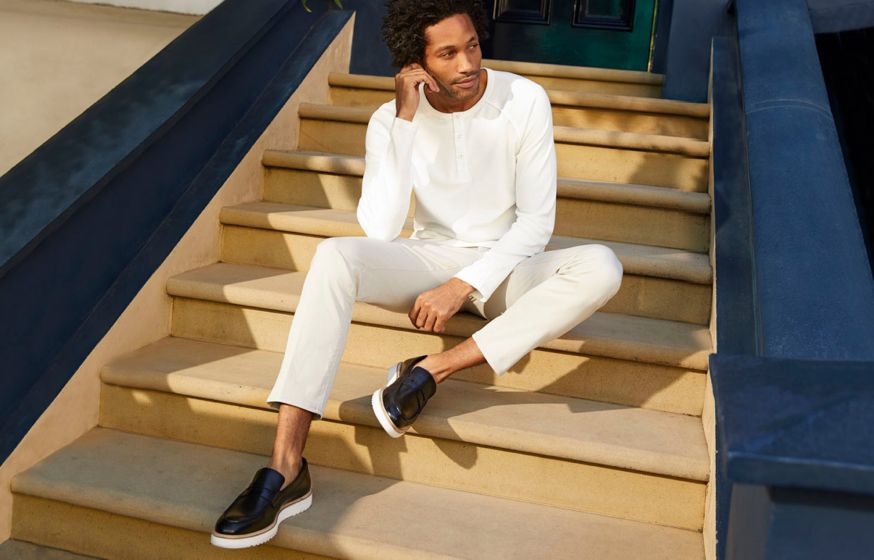 Best summer walking shoes for men
If you're a keen walker, you'll know the importance of comfortable and supportive walking shoes. Different styles are designed for various purposes and terrains, so take that into account when choosing your next pair. In summer you'll also want walking shoes that will keep your feet cool, so look for a style featuring breathable technology.
Find out more about choosing the best walking shoes and boots.
Walking sandals
Men's summer walking sandals offer more coverage than a regular sandal and are ideal for sun-soaked hikes, plus they often provide arch support and feature straps for extra protection.
Our walking sandals are designed with adjustable straps, durable soles and cushioned padding for ultimate comfort on long summer walks. Our Un Trek Part sandals are ultralight, with dual-part adjustability, or if you're looking for extra coverage that still leaves feet feeling cool in summer check out our Nature Limit walking sandals.
Best men's summer shoes to wear with shorts
Boat shoes
Boat shoes are versatile and can be styled up or down, boat shoes make for great summer wear as they work just as well with shorts as with classic chinos. Team with cargo shorts and a t-shirt for everyday wear, or try pairing with chino shorts and a polo shirt layered with a sweatshirt on cool summer evenings Find out more about how to style boat shoes.
Sandals
There's really no incorrect way to style sandals, and a pair of leather sliders or toe-post sandals look great worn with virtually any combination of shorts and t-shirt.
Trainers
Classic white trainers will add a fresh, contemporary feel to any outfit, while a beige or blue suede pair will add a touch of interest. Wear yours with shorts and a t-shirt, and style with pulled-up socks for a sporty aesthetic or wear invisible socks for a no-sock look.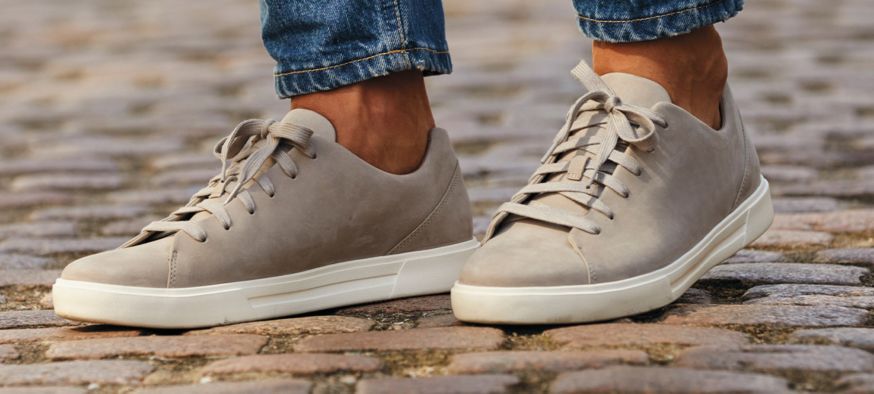 Best slip-on summer shoes for men
Flip flops
No summer wardrobe is complete without a pair of trusty flip flops. Whether you're heading to the beach or pottering around the garden, flip flops are simple to slip on and off, easy to clean and they're fast drying, which makes them the ideal for summer.
Our collection of men's flip flops features both textile and leather styles. We also have a range of men's flip flops with arch support for ultimate comfort.
Loafers
Loafers are a wardrobe staple and one of the best men's slip-on summer shoes. There are lots of loafer styles to suit different looks and tastes –one of the most popular being the penny loafer, which features a leather strap with a diamond-shaped cut-out.
Clarks has men's loafers in a variety of styles, materials and colours. Try our Oliver Penny loafers for a classic leather style in dark tan or black, or if suede is your preferred look, try our Ferius Creek loafers in tan or dark blue.
Find out how to create a capsule shoe wardrobe, or explore our collection of men's summer shoes and discover your perfect pair for the warmer weather.