How to Wear Boots to Work
Stylish, comfortable and guaranteed to keep your toes toasty in chillier weather, boots are the ultimate year-round staple. Given how fabulously versatile they are, it's no surprise that many of us want to add them to our work wardrobes - particularly in those icy winter months. But if you're only used to wearing them casually, how do you wear boots in a way that will get your boss' seal of approval?
Read on to discover the best boots for the office for both men and women, with advice on how to rock ankle boots and knee-high boots in an office setting.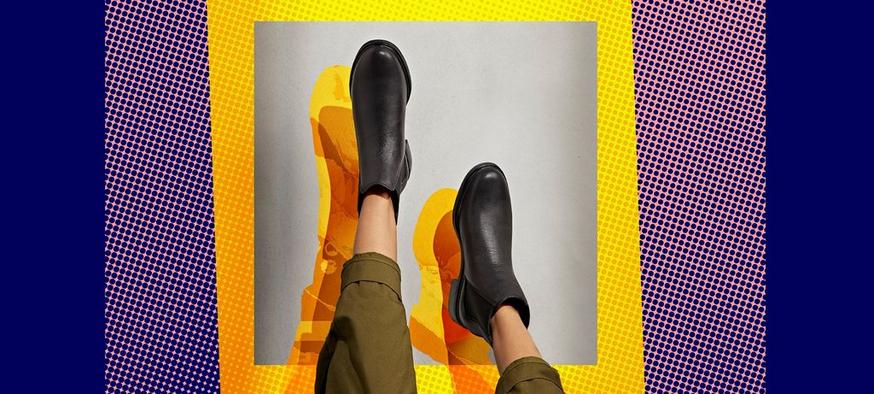 What should I look for when buying boots for work?
Male or female, you can absolutely wear a pair of boots to the office. The type of boots you wear and how you style them depends on your work environment and company culture – so that's the number one thing to keep in mind when deciding on your style, colour and heel height. Here are some general tips to follow when considering your new office boots.
A neutral colour
Black is a real trooper of a colour since it goes with everything, making it the obvious choice for a formal work boot. While black never fails to impress, if you fancy something a little different, brown boots can also look smart - especially in dark brown leather. In a more casual setting, you may even be able to get away with a fun coloured pair of boots, like burgundy or red.
Leather or suede
Most boots are crafted in leather and suede, and as luck would have it, these materials are the smartest fabrics for boots to wear to work. Leather styles are best suited for formal environments as they can be polished to a shine, while suede boots can be worn in places with a more casual dress code.
A pointed toe
While not a major necessity, a pointed or almond toe looks sharper and more sophisticated than a rounder style. A pointed toe can also help to extend your leg length, which is especially helpful when you're wearing straight leg trousers.
A slim heel
For women, heeled boots can make a snazzy style statement as part of your office attire. While a chunkier heel can work well in a more casual office environment, slimmer heels tend to look dressier and are therefore better suited for formal office wear.
To keep things nice and comfortable, stick to a maximum heel height of 3 inches—or if you're a heel novice, try a kitten heel for a cute style that's easy to walk in. If you prefer to avoid heels completely, flat boots make for a fabulous alternative ̶ just look for a pair that ticks all the boxes!
How to wear boots to work: women
With lots of different women's boot styles available, the options for work are endless. If you're pondering whether over-the-knee boots are appropriate for work, or if ankle boots are business professional, (spoiler alert: they are!) then this guide should give you some answers.
Ankle boots for work
Ankle boots are versatile by nature, so they can be worn with plenty of your go-to work outfits. Wear your ankle boots to work with a cute midi dress, tights and a blazer, or a smart midi skirt and cashmere jumper.
If you're thinking about pairing your ankle boots with work trousers, then pay attention to how the hem of your trousers works with the top of your boots. For straight leg trousers, opt for a slightly shorter hem, so that a large portion of the boot remains on show.
If you prefer slim-fit trousers, you can either leave a small gap between your boots and the trouser hem, letting the hem graze the top of the boots, or if your trousers are really skinny, you can tuck them into your boots slightly.
Find more tips on how to wear ankle boots.
Knee-high/over-the-knee boots for work
Knee-high boots and over-the-knee boots are fabulously office-appropriate so long as your office environment isn't too formal. Their smart and stylish aesthetic should slot right into your work wardrobe, and as a bonus, your legs will feel super cosy and warm!
Stick to black leather or suede styles, and opt for a heeled pair if you really want to impress! Knee-high boots will look great with your work skirts and dresses that sit below the knee, or with slim-fit, tucked-in work trousers and a smart blouse and jacket.
Find out more about how to wear knee-high boots.
How to wear boots for work: men
Men's boots work well as a formal shoe for pretty much any type of working environment, so you really have the pick of the bunch when it comes to selecting a pair. Here are some of our favourite styles to wear to work:
Ankle boots with a suit
From Chelsea boots to Desert boots, there are plenty of men's boot styles that will look effortlessly stylish when paired with a suit. Suede Chelsea boots look great with a grey or black suit—particularly one with slim-leg trousers. Alternatively, up the style stakes by pairing black Desert boots with a pin-stripe suit for a look that's both smart and sophisticated.
Ankle boots in a smart-casual setting
If your workplace is a little more lenient on the dress code, then you can get more experimental with your shoe choices. Pretty much every style of men's boot works in a casual setting, from Chelsea and Desert to Combat and lace-up—though it's best to stay away from bright colours and busy patterns.
Pair your boots with chinos, black jeans or smart trousers, and add a smart polo or button-down shirt on top. Complete the look with an on-trend bomber jacket or wool blazer for something a little smarter.
Boots make a great addition to any work outfit, and with so many styles available, there's something to suit every taste and workplace. Take a look at our women's boots and men's boots, or read about what to wear for an interview.