Suited and Booted:
How to Wear Boots with a Suit
When thinking about what shoes to wear with a suit, it's easy to forget just what an excellent option boots can make as your shoe of choice. And with so many boot styles to choose from, from chukka and Chelsea to desert and ankle, you'll never be short of new and interesting options.
The right pair of boots can work just as well with a smart suit as some brogues or loafers will. Read on to find out more about how to wear boots with a suit, including which types of boot work best with a suit, and how to style your look.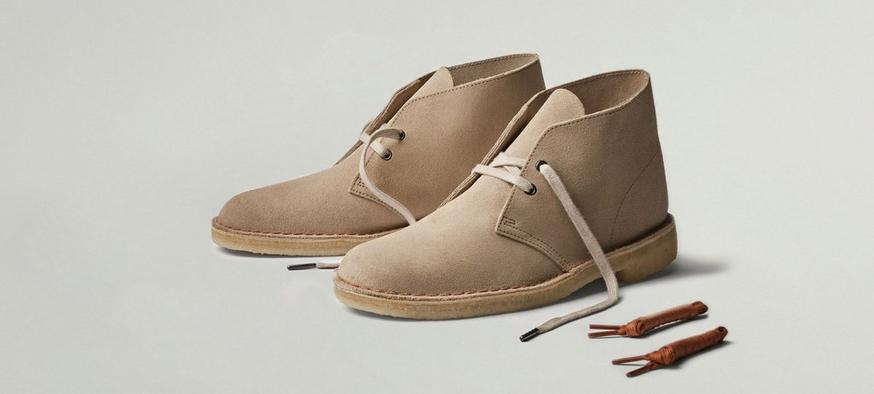 What does suited and booted mean?
While in its literal sense, the phrase 'suited and booted' might conjure up images of a suit and a pair of boots, the saying is mostly used to describe someone who is smartly dressed. You can be 'suited and booted' even if you're wearing chinos and loafers—but for the sake of this guide, let's stick to the literal meaning!
Can you wear boots with a suit?
You can absolutely wear a suit with boots, especially in the colder winter months where you want to keep your feet warm and cosy. Whether you're attending a work meeting or are off to a wedding, boots make for the ideal accompaniment to your suit. With a whole host of boot styles to choose from, it's easy to find the perfect pair for the occasion.
Ankle boots with a suit
There's no better combo than ankle boots and a suit, and since there are many types of boots that fall into the category of ankle boots, you can have fun trying out different styles, colours and materials. Here are just a few options you can choose from:
Chelsea boots with a suit
Ahh, the iconic Chelsea boot. With their rounded toe and distinguishable elastic side panel, Chelsea boots are a popular style choice for both men and women. These boots are usually made from leather which makes them both supportive and waterproof—another bonus especially during the wetter winter months. Alternatively, to inject some fun into your look, you can just as easily wear suede Chelsea boots with a suit.
Once you've decided on your suit, choose between popular colours like brown and black Chelsea boots – and don't forget to accessorise with a matching briefcase!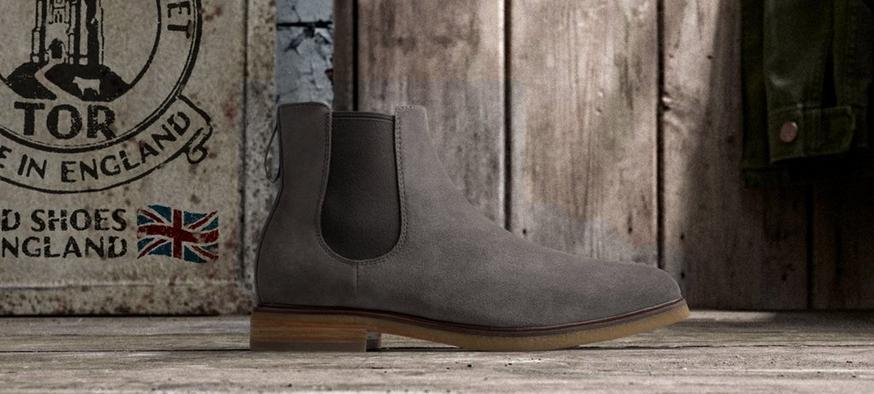 Desert boots with a suit
As a footwear staple for decades, desert boots are another stylish boot option to wear with your suit. Most often found in colours such as black, tan and grey, desert boots match with just about any style of suit, whether you're dressed formal for work or it's more of a smart casual affair.
For a classic look, pair a black suit with some black desert boots, or to hit those extra style points, try opting for a grey suit with brown desert boots for a heavenly colour combination.
Chukka boots with a suit
Chukka boots are a type of suede desert boot that can be identified by their thinner sole in comparison to desert boots. Like desert boots, these boots can do no wrong when paired with a suit—and with endless colour options to choose from, you can get as creative as you like.
Neutrals are quite a big deal at the moment, so why not opt for a tan coloured suit paired with some brown chukka boots? Or for something a little more toned down, pair a black suit with some dark brown chukka boots.
With each style of boot, you can also get creative with the rest of your outfit. From skinny and slim suits to modern and classic, there are so many different options to choose from. In the warmer months, why not switch your suit trousers for some suit shorts to keep cool? Additionally, try replacing your tie with a dickie bow for more of a fun look.
From Chelsea boots to chukka boots, there are so many styles of boot that you can wear with a suit. If you're searching for more pairs of shoes that will match your suit, read our guide about the five best men's dress shoes.