How to Wear the Dad Sandals Trend
Marmite fashion trends always spark heated debate, and thanks to a serious spike in popularity amongst online influencers and some of the world's biggest fashion brands (Chanel, we're looking at you), we've found another trend that can be added to the 'love it or hate it' pile: the dad sandal.
As a shoe that's fast becoming the people's favourite, the dad sandal is both practical and comfortable – and while it might not look out of place on dorky dads or tourists, the key is all in the styling.
Let's face it: we all love a chunky shoe. And after the chunky trainer blessed our wardrobes back in 2017, the world is now happy to embrace the thick soles and oversized buckles that come along with dad sandals. Keep reading to find out how to pull off the dad sandals trend, including our recommendations for specific styles and colours that work best.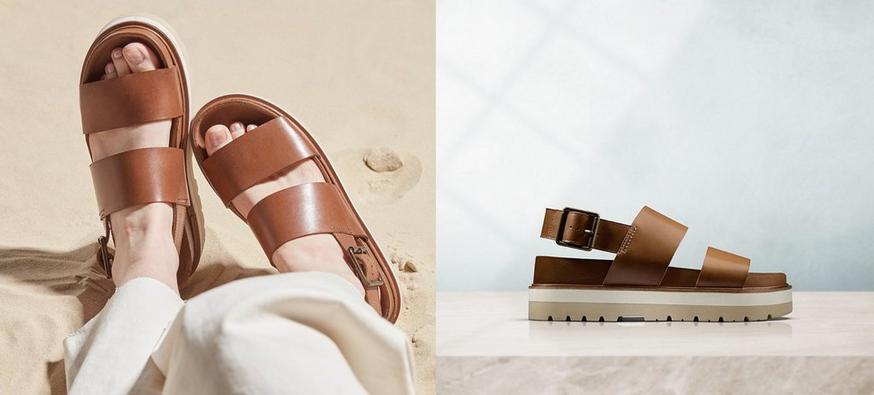 What are dad sandals?
Brilliantly unisex and super edgy, dad sandals are fast becoming one of the world's hottest trends.
Essentially, it's a chunky sandal made up of two large straps which can either be fastened with riptape or a buckle—and with chunky shoes being all the rage, it's an adaptable look that's 100% on trend right now.
Are dad sandals in fashion this year?
This is the year of everything chunky, so it's only right that dad sandals make their debut. Ever since Chanel released their trend-setting black dad sandals back in 2018, the dad sandal trend has been on the rise, and we have it on good authority that it's now officially a cool shoe to wear.
How to wear dad sandals
Both men and women look equally great in dad sandals, and these shoes look just as stylish with a cute summer dress as they do with jeans and a casual tee.
One of the best things about dad sandals is their versatility. While their comfort makes them great for hiking trips or summer dog walks, dad sandals aren't just limited to the practical. You can wear your dad sandals pretty much anywhere you like with just about any outfit, so get ready to paint the town red in your new look!
Women's dad sandals
Since chunky sandals are everywhere, it's not hard to find women's sandals that have a dad sandal feel to them. Dad sandals come in a variety of different colours, patterns and prints, so there's something for every outfit. For any newbies, why not try starting simple with some black dad sandals like our Orianna Strap?
Combine your dad sandals with blue mom jeans and a tucked in white tee for a casual look, or for a hot summer's day, complete the look with a floaty midi dress and white socks. (And in case you're wondering, socks and sandals are the in thing right now.)
If you're feeling adventurous, opt for a print like snakeskin, as seen on our Tri Sporty style, and pair with a simple black denim skirt and oversized sweatshirt.
Men's dad sandals
Men's dad sandals go with just about any wardrobe staple, from denim and chino shorts to jeans, joggers, t shirts, polo shirts and sweatshirts. For a sporty look, combine our Wave2.0 Jump sandals with some jean shorts and a t-shirt, and to dress the look up in the evening, simply add a blazer or a smart jacket.
Dad sandals are a brilliantly versatile trend piece that can be worn by both men and women. To find your perfect pair, take a look at our women's sandals or men's sandals, or for some more fashion inspiration, check out our guide on the spring/summer 2021 shoe trends.