How to choose the perfect bridal shoes
Whether you've said yes to the dress or have decided to start from the feet up, choosing the perfect pair of bridal shoes is an exciting and important part of your wedding planning.
You're likely to be wearing your bridal shoes for upwards of 12 hours on your big day, and a lot of that time will be spent on your feet, from walking down the aisle to dancing the night away, so it's essential that you choose a pair you love and that you're going to be comfortable in.
So how exactly should you go about choosing your shoes? From the season and venue to the colour and heel height, read on for advice on how to choose the perfect wedding shoes.
What shoes should a bride wear?
To find the right bridal shoes for you, think about a few key factors – starting with the season. If you're having a winter wedding, closed-toe shoes will keep your feet warm, while during summer you could choose from sandals, peep toes and slingbacks. Consider if you are getting married indoors or outdoors, too. If your wedding and reception are both indoors, you have more flexibility with your choice of shoes ̶ while outdoor activities on grass or sand might require flat bridal shoes or block heels to avoid sinking into the ground.
Perhaps most importantly of all, there's your dream dress ̶ look for shoes that complement it perfectly in style, colour, heel height and embellishment.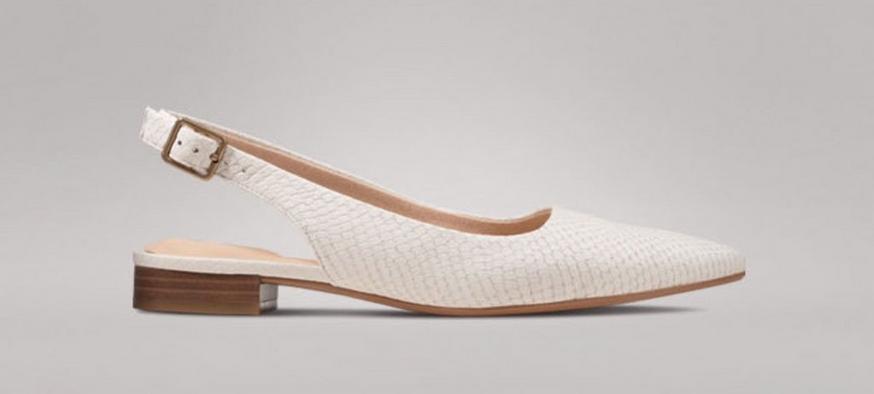 The best height for bridal shoes
It's a good idea to opt for a heel height that you're used to and feel comfortable in. That could mean that you choose a pair of low heel bridal shoes, or even a beautiful pair of flat bridal shoes. Don't feel pressured to choose a sky-high pair if you aren't used to walking in them and avoid choosing shoes simply because you like how they look. If you have any doubts about wearing them for 12 or more hours, it's best to steer clear.
If you do choose to wear heels, block-heel bridal shoes are a great option as they offer extra support and help you to balance.
Choose and purchase your bridal shoes ahead of your dress fittings and alterations, as the dressmaker or tailor will need to know the exact height of your shoes in order to adjust the length of your dress.
The best colour for bridal shoes
Your choice of shoe colour will depend on your wedding theme, and the colour and style of your dress If you're opting for a traditional wedding, chances are you've chosen an ivory wedding dress. White, nude and ivory bridal shoes are classically paired with an ivory dress, while pale blue is a playful twist on tradition, with many brides choosing blue shoes as their 'something blue'.
If your wedding is set to be contemporary, consider metallic tones for glitter and shine, or even bold and bright shades of pink or green. Think about matching your shoes to a colour from your bridal bouquet, or choosing a pair in a key colour from your theme – perhaps one that matches your bridesmaids' shoes. One advantage of choosing an alternative colour for your shoes is that you'll be more likely to wear them again after your special day.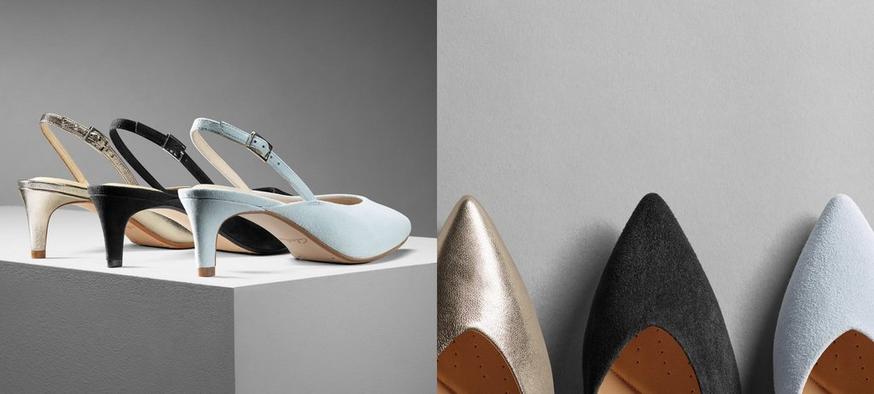 Don't forget to prioritise comfort
It's easy to focus solely on style when it comes to shopping for your wedding shoes, but comfortable bridal shoes are a must. You'll be wearing them all day long, so choosing shoes that fit perfectly, offer extra cushioning, and aren't too high is essential.
When shopping for new shoes, it's always important to find the right fit. If you're between shoe sizes or have wide or narrow feet, you can shop confidently at Clarks we offer wide-fit bridal shoes as well as whole and half sizes, so that you can find the fit that's just right for you.
It's also a good idea to break in your shoes ahead of your big day, so that you can identify any potential pain points and give the shoes time to adjust to the shape of your feet.
How to clean wedding shoes
Before the big day, it's a good idea to protect your shoes with a suitable protector spray, like one from our shoe care range. But if your wedding shoes look a little scuffed after your wedding day, don't fret – bridal shoes are typically made from leather, satin, or suede, and these materials can all be cleaned. You can usually simply wipe leather shoes, and suede is relatively easy to clean too; read our handy guide on how to clean suede shoes. Satin shoes can also usually be treated using a gentle solution of water and detergent, and a soft brush.
If you decide to use a specialist shoe cleaning product, remember to read the instructions carefully. Start with a small patch inside the heel and use the product sparingly.
Keep your shoes in good condition until you next wear them by wrapping them in tissue paper, placing them in a shoe box or shoe bag and storing them away from heat and out of direct sunlight.
Discover our collection of wedding shoes, featuring traditional nudes, glitzy metallics, bold pinks and a range of styles.