How to polish shoes at home
There's little that looks smarter than a crisp pressed suit paired with freshly polished leather shoes, but what happens when they lose their shine? You might be tempted to take them to a professional, but knowing how to polish your own shoes is an invaluable skill - particularly if you're ever caught out with a last-minute event. Once you get the hang of it, you'll find it's super-easy and doesn't take much time at all.
From the essentials you'll need and a step-by-step tutorial, to advice on which shoes can and can't be polished, our handy guide will help you along the way to have your favourite pair glistening in no time.
How to create a home shoe polishing kit
If you want your shoes looking sharp and sleek for as long as possible, investing in a range of quality shoe polishing products is worthwhile in the long-run - plus it'll save you plenty of time and money.
Shoe brush
A high-quality horsehair brush is ideal for shoe shining as it allows you to get into the nooks and crannies with its coarse bristles. Be prepared to use this once for the buffing and cleaning, then again for applying the cleaner itself.
Soft cloths
A cotton cloth is needed for cleaning and, later, conditioning. An old T-shirt you no longer wear, cut into strips or a few squares, works just as well.
Leather cleaner
For true shoe maintenance, using both a leather cleaner and conditioner can help your shoes last longer. The cleaner does what it says on the tin, while the conditioner helps to prevent the leather on your shoes from becoming brittle or cracking.
Shoe polish
Attention to detail is essential for keeping shoes looking brand new, so make sure your polish colour perfectly matches the colour of your shoe, in a wax-based formula. This is simple for black shoes, but for browns and other hues, it's a good idea to take your shoe to the shop and ask for a colour match. We've suggested opting for a wax-based polish as it adds shine and enhances shoe colour, whereas cream adds no shine.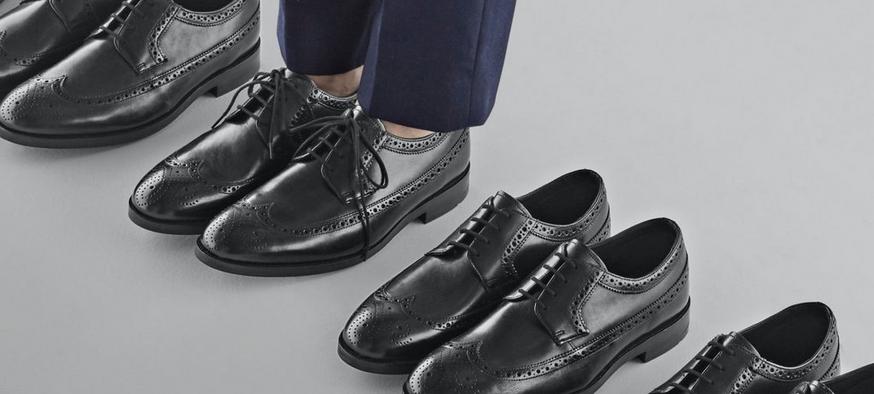 How to polish shoes
1. Preparation
In order to shine your shoes effectively, preparation is key. To avoid getting polish on your shoelaces, remove them and set them aside.
2. Buff and clean
Use your horsehair brush to buff away any dirt from your shoes. Make sure you're getting into all the crevices and seams to ensure they're thoroughly cleaned before you apply any polish. Take your soft cloth (or T-shirt rag) and dampen it slightly with water before wiping your shoes. Use the cloth to give your laces a wipe, too, as plenty of dirt can build up on them.
3. Condition
For thorough cleaning and priming, it's time to use your leather conditioner. You only need to use a small amount on your soft cloth - enough to spread a thin layer across your shoes. Leave this to absorb for around 15 minutes.
4. Polish
Now you're ready to give your shoes their first round of polish, using a clean soft cloth. Take a little polish on the rag and start rubbing it in, slowly, in circular motions, until you've covered the shoe with a thin layer. Add a second layer if your shoe is still looking quite dull, before allowing it to dry for 20 minutes.
If you're wondering how to shine shoes without polish, there are several ways to do so, with natural ingredients such as olive oil, but they can all have varying levels of success (or failure) depending on the material of your shoes and their reaction to the ingredients. To be on the safe side, it's best to opt for store-bought shoe polish.
5. Buff again
Once your shoe polishes and treatments have absorbed, it's time for a second buff. This time, really give them a good scrub and ensure you've removed any excess polish. You should see the shine starting to appear.
6. Polish to finish
This is the golden step for polishing your shoes to a mirror shine. Take a damp soft clean cloth and a little more polish and rub into your shoes once more, in circular motions, to cover with another thin layer. Your shoes should now be bright and shiny.

Should I polish new shoes?
Your new shoes will probably have little or no polish on them and won't be as glossy as they could be, so we recommend polishing new shoes before you wear for the first time.
Does polishing shoes protect them?
Polishing your shoes is a great way to protect them, particularly as it stops the build-up of dirt and grime that they collect from day-to-day wear. Polishable shoes, such as those made from leather, hugely benefit from the leather conditioning and polishing steps as it helps to protect the material, while also preventing your shoes from cracking or losing shape.
Can you polish suede shoes or nubuck leather shoes?
You should never treat suede shoes with leather shoe polish as suede is a far softer material. Polishing nubuck leather shoes should also be avoided as the material is rougher. There are specific cleaners and treatments formulated for these materials that you should use instead. Find out more about caring for your suede shoes.
Whether you're polishing men's or women's shoes for work, or giving your little one's school shoes a new lease of life by shining them, caring for your shoes correctly is essential to keep them lasting, and looking better, for longer. Our full shoe care range has plenty to help you get started with polishing your shoes.