The Best School Trainers for PE 2023
Whether they're scoring goals in football or enjoying a run-around in the playground, your child needs a pair of PE trainers for school that delivers. Promising comfort, cool style, and durability, our kids trainers are super lightweight for effortless movement from break time to home time.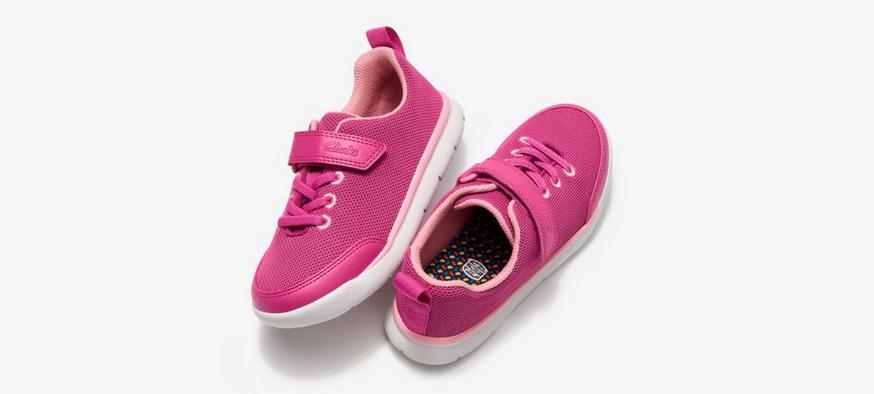 What trainers should my child wear for PE?
Before buying a new pair of PE trainers, take time to understand your child's school dress code. There may be guidelines on acceptable colours and styles, such as whether they're allowed to wear black or white trainers, if decorative prints and patterns are permitted and what fastenings are required. With our practical girls and boys PE trainers available in both riptape and lace-up styles, there's something for everyone at Clarks.
Below we've rounded up some of the best kids PE trainers from our collection.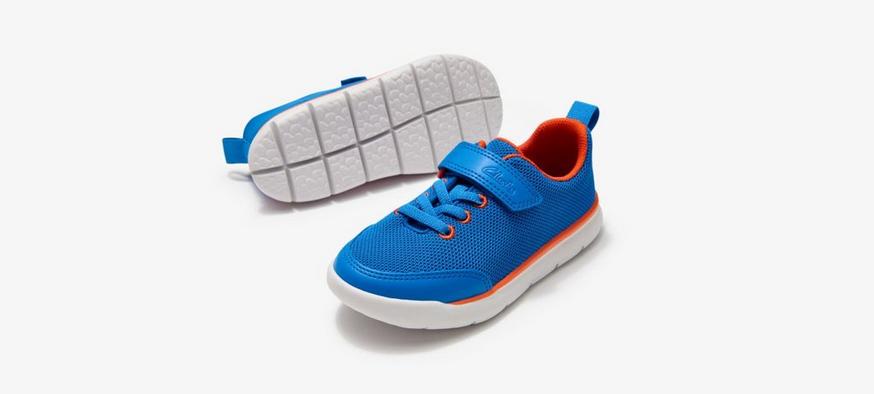 Best PE trainers for boys
Featuring lightweight rubber soles with flex grooves that make for easy, natural movement, and handy riptape straps, our classic Scape Sky Youth Black Leather pair are failsafe PE school trainers. We've also used Agion® technology to nip bad smells in the bud, keeping their PE shoes and feet super fresh.
Do they wear out their PE trainers before you know it? We've got you covered. Our Scooter Speed Kid Black Leather shoes are a great choice for active kids, thanks to their protective chunky bumper toes and soles.
Alternatively, if they'll be playing football on AstroTurf, our Award Fly kid technical Astro trainers get them prepped for whatever the pitch brings. These lightweight kids' riptape trainers have a low profile that allows ease of pivoting, rotating and rapid movements - ideal for kids trainers!
Best PE trainers for girls
Whether they can rock trainers in the classroom or just during PE, we've got a great selection for girls to choose from at Clarks. Breathable and durable leathers combine with enhanced-grip rubber soles to create our Orbit Sprint Youth black trainers - keeping kids feeling fresh and comfortable and ready to take on the day ahead!
If they fancy a splash of colour in their kit (and they're allowed to), try the Hoop Run collection. Available in super-cool standout colours, the kind foam footbed and riptape straps wrap precious feet in comfort, while a super-grippy sole keeps them steady - minus any extra bulk. Let nothing stop them this season.
All our kids' school trainers are suitable for every gender, and with plenty of options to choose from, all you need to do is find their favourite pair in the right size.
Kids' Velcro trainers
Most of our kids' trainers come with riptape traps, such as Scape Flare Youth, so there's minimal fuss when they're getting set for the day, or when they need to get ready for PE in a flash.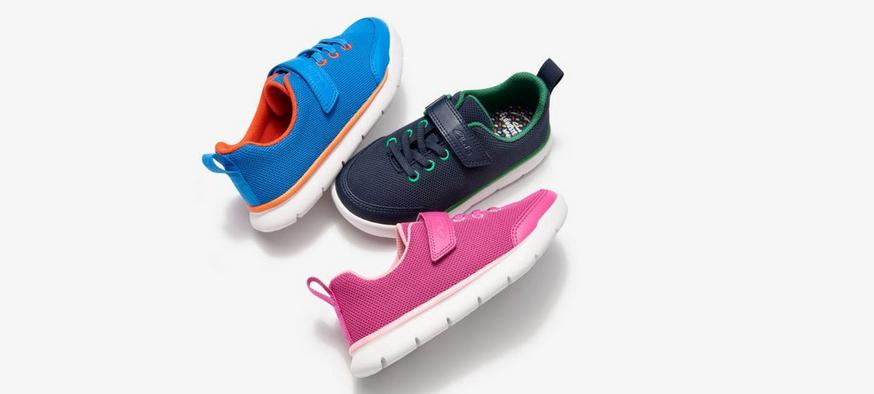 Best kids' running trainers
If they love running as part of their school sports, then our Scape Track Kid Black Leather trainers are ideal and constructed with sports-inspired benefits such as breathability and sole flex points to allow for natural movement.
Choosing the correct trainer size
At Clarks, we know that comfort is key, and we design our PE trainers with their dream fit in mind. That's why we offer our renowned in-store fitting service with helpful staff on hand to make sure you find the perfect pair of kids' school trainers. If you can't make it to one of our stores, we also sell our handy shoe gauge online so that you can measure your child's feet and get their sizing spot on from home.
Though it can be tempting to size up and buy bigger children's shoes for your little ones to grow into, it's important to buy shoes that fit well from day one. Their toes should not touch the tip of the shoes and there should be room on either side of their foot - a good test is getting your child to walk or jump briefly in them. As well as half sizes, our school trainers also come in a variety of widths, ensuring that you can find the perfect fit so that your children's feet have adequate room for movement.
For more inspiration, explore our full range of kids' trainers, or read our guide to picking the best school shoes.