How to transition your
wardrobe from winter to spring
With sunnier days finally on the horizon, it's time to start preparing for that exciting winter-to-spring transition. While April showers mean your boots aren't quite ready to be demoted to the back of your wardrobe, trainers, sandals and dainty flats can slowly start weaving their way into your spring outfits.
As an often-tricky season to dress for, given the ever-changing weather forecasts, read on for some failsafe tips for incorporating spring shoes into your ensembles, while preparing for the in-between stage, too.
Winter to spring wardrobe essentials
It's easy to go overboard with overhauling your wardrobe for a new season, but stocking up on a range of essential transitional pieces is sometimes all you need. A great place to start is by leaving those wintery hues behind in favour of injecting some brightness and colour into your outfits.
Start with neutrals
Start simple with neutrals and nudes that can form the base for many outfits. Our taupe Pure Tone slip-ons make a great versatile addition to your spring shoe collection, and work exceptionally well paired with blue wash skinny jeans, a loose-knit sweater and a neutral jacket for when you're seeing friends or enjoying a weekend stroll.
The patent Kaylin Cara heels are excellent spring shoes, instantly dressing up an outfit and complementing everything from monochrome looks to playful floral ensembles.
Go bold with colour
Spring and summer are the ideal seasons to experiment with colour, and while it's quite the change from your winter shades, adding some colourful spring shoes to your wardrobe is a great way to reflect the changing weather.
For a smart spring outfit, keep your clothing simple with monochrome neutrals or black, and add a splash of vibrancy with colourful heels such as the Laina55 Court Fuchsia, which are sleek and sophisticated with a croc-effect finish. For a more laid-back spring look, try comfortable and versatile slingbacks - team our Laina15 Sling heels in Fuchsia with beige tapered trousers and a tucked-in t-shirt.
Weave in white
If you're looking for a stylish look that isn't too loud, white shoes are a great way to make a statement. Give our white Hero Lite Lace trainers a whirl, paired with printed trousers and a light jumper in a pastel hue. For sunnier days when you're longing to don a dress, pair a floral floaty style with our chic and eye-catching Sheer65 Mules.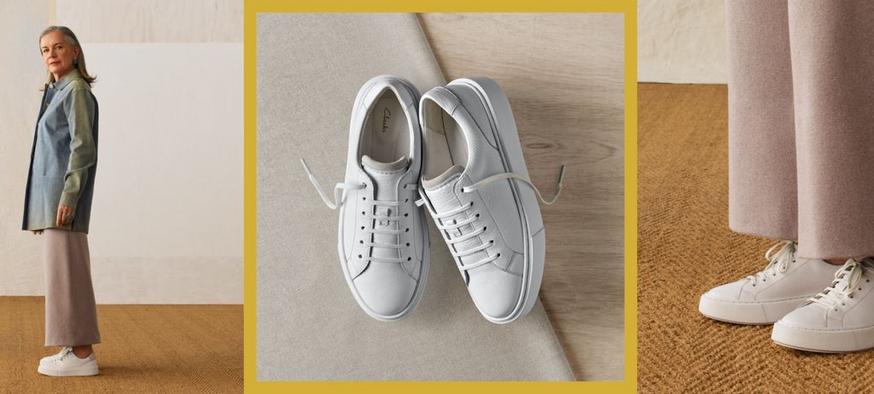 The best shoe styles for spring
Get ready to have plenty of fun with footwear in the height of spring, when temperatures are rising and coats have been replaced with light jackets and layering. Sandals like Un Perri Way are just right for Sunday strolls and fun lunches, while for more formal occasions choose Sheer 35 Strap, which have a sleek dash of metallic sparkle to complement the white.
Loafers in styles like the Laina 15 Loafer 2 in Taupe Snake are also great spring shoes to have on-hand for important work events and dinners - we love the contrast of the striking snake print with the soft taupe suede. If you're looking to add elevation to the mix, dainty kitten heels such as the ballet pink Genoa55 Court are perfect for pairing with your favourite seasonal dress or a chic two-piece.
What outfits should I wear in early spring?
While the aforementioned styles and tips work well for warmer weather, there are plenty of other ways to transition outfits from winter to early spring when the skies are a little greyer. It's not too early to pull out those spring fashion picks, but layers in the form of jackets, jumpers, scarves and hats are your best friend during this in-between stage, going hand-in-hand with boots to create classic ensembles.
Styling boots for spring
Ankle boots are super versatile, so whether you're wearing dresses, skirts, jeans or trousers, there really is a style to suit everyone. For smart-casual occasions try Chelsea boots or our beige Clarkdale Arlo boots, with cropped slim-fit jeans in a dark wash, a ribbed jumper and a leather jacket - perhaps complemented with a neutral-toned scarf. Or, for a date night, why not wear a vibrant dress and add some height with our stylish tan West Lo suede ankle boots that'll look great when paired with a handbag in a similar shade.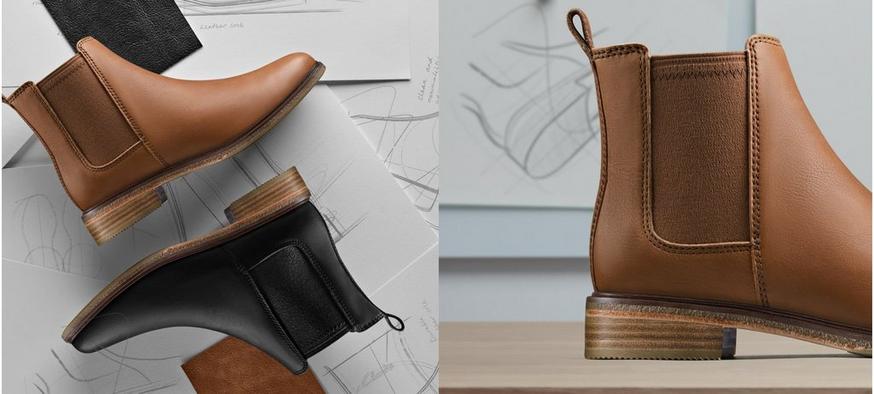 If it's a little chillier, don't shy away from knee-high boots like our Sheer Slouch in Cognac, which are both stylish and straightforward to wear with jeans or dresses. There are plenty of tips on how to style knee-high boots in warmer seasons in our handy guide.
Whether you're slowly easing yourself out of the chill of winter in boots, or embracing the sunshine in sandals, Clarks has plenty on offer to get you ready for this transitional season. So put a spring back in your step and have some fun with stand-out hues and a lighter colour palette. Find out more about styling boots in warmer weather.