Matching Shoes and Bags:
How to Find Your Perfect Pairing
Whether you're heading to a wedding, wondering what to wear to work or simply searching for everyday outfit inspiration, matching your shoes with your bag is an excellent way to achieve a put-together look. And while matching accessories may not be for everyone, it's great for creating elegant ensembles with ease, as you'll have a little less planning to do.
There are lots of ways to match your bag and shoes and still keep things subtle - they don't even have to match fully; they can coordinate in either colour, texture or style.
Should your shoes and bag match?
Though there's no set rule about your shoes and bags matching every time, it's an excellent way to build up a capsule accessories collection - particularly useful for special occasions.
Matching your bag and shoes can either make a statement in their own right or complement an outfit. For example, pairing a striking outfit with muted matching accessories allows for the rest of the outfit to truly stand out, with minimal effort required.
What styles of shoes and bags work well together?
For everyday office looks, a simple and structured black leather handbag like The Ella paired with our chic Laina Rae courts, or ankle boots, is an ideal combination. Seeing friends after work or on the weekend? Swap to a stylish crossbody bag such as the quilted Kierra Mila, which works well with our sophisticated, subtly detailed West Lo boots.
Playing with textures is another fun way to match your bag and shoes. For formal evenings, a small bag and dainty heels make for a delightful pairing, so try our Curtain Strap heels in a striking Fuchsia and the crossbody Treen Willow in a matching hue, which will instantly liven up a neutral or all-black ensemble.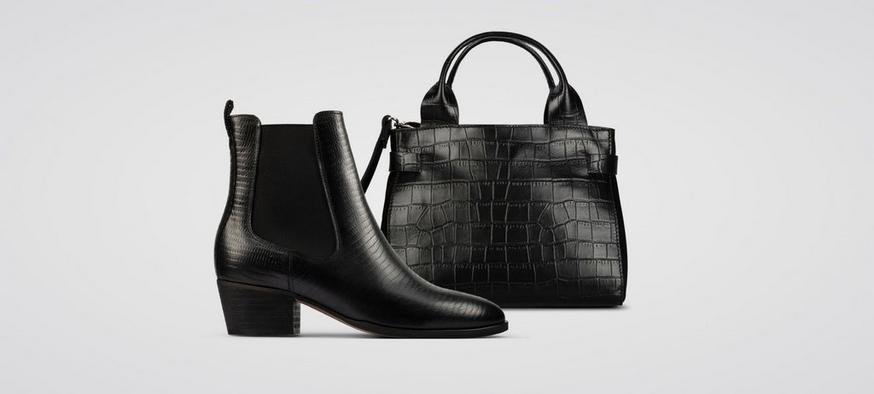 For occasions like job interviews, textures such as patents make for a sophisticated match. Match a patent pair of loafers with a patent satchel or a top-handle handbag. Details also make a big difference, so the croc-effect Cabana Moon satchel with classic Hamble Loafers is an excellent combination - instantly making an outfit look more elegant and chic.
There are plenty more ways to play with textures when matching shoes and bags, particularly by incorporating an array of colours.
Matching bag and shoes for a wedding
Whether you're a bridesmaid or guest, shoulder bags with pops of metal hardware are a wonderful way to add some sparkle at a wedding. If your dress or two-piece is a block colour, pair the Treen Willow Metallic bag, with its dazzling chain strap, with subtle metallic sandals like the Deva Mae.
For those braving dresses in bolder prints and colours, incorporate matching, neutral-toned accessories that allow the dress to stand out. For example, a floral dress featuring pinks, purples and reds would look fabulous with shoes and a bag in muted ballet pinks.
If you're the mother of the bride, a bridesmaid, or the bride herself, choose shoes and a bag in shades of ivory, pale pink or metallic. Find more tips on how to choose bridesmaid shoes or the perfect wedding shoes.
The best nude shoes and bag pairings
Neutral options are a great place to start for accessory matching, as taupes, beiges, browns and creams blend seamlessly together. To keep your nude shoe and bag pairings looking natural, play with textures and throw a subtle print into the mix, like these sophisticated snake and suede Kaylin T Bar heels with a simple suede crossbody like the Tornolo Hope.
For more relaxed occasions, a slouchy nude shoulder bag like the Tornolo Eva works well with taupe slip-ons like the Pure Tone, especially when paired with blue skinny jeans and a crisp white blouse.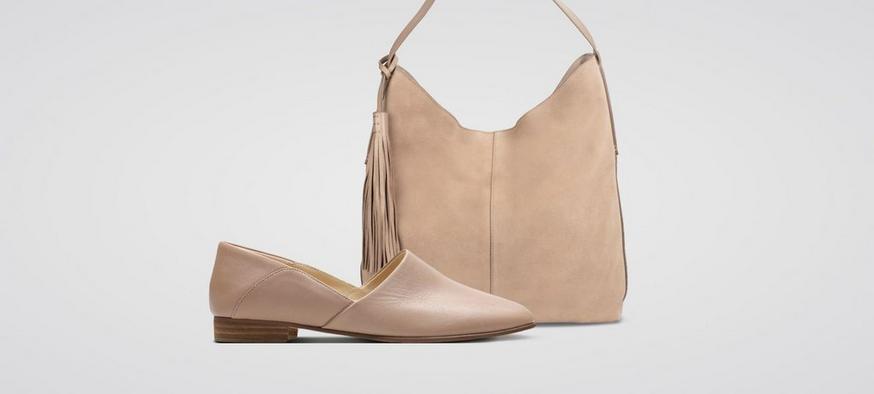 Navy shoes and bag pairings
Navy is an excellent wardrobe staple. Ideal for smart-casual looks, it works brilliantly with whites and beiges. Try styling our Pure 2 Mules in navy leather with beige cropped tailored trousers, a tucked-in white T-shirt and a simple navy leather crossbody bag.
Silver shoes and bag pairings
Metallic hues are beautifully versatile, so you can't go wrong with silver shoe and bag pairings. Add a little excitement to a monochrome daytime look with silver trainers like the Pure Tone in silver metallic and an eye-catching silver rucksack.
If you're going straight from the office to an evening out, simply add silver heels like the Laina Rae 2 and a complementary silver shoulder bag to instantly dress up your outfit.
Gold shoes and bag pairings
For formal affairs, gold can completely transform the simplest of outfits. If you have a big evening ahead and need a little confidence boost, harness power dressing with a suit, our Hamble Oak brogues and a matching gold crossbody bag.
When done right, accessory pairings can be super sophisticated and easy to incorporate into your everyday wardrobe or for special occasions. Whether you're the mother of the bride or a wedding guest, heading to the office or enjoying a night out with friends, explore our collection of heels for your next bag and shoes pairing.